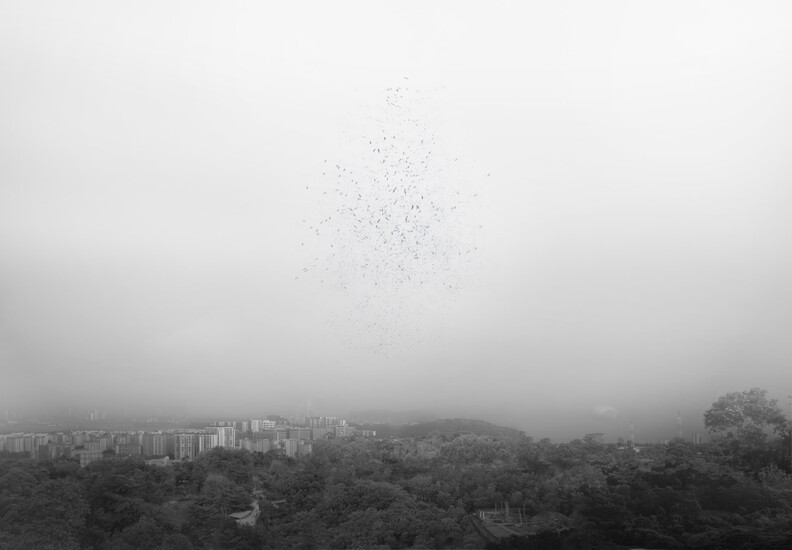 The First Beijing Biennial
, National Base for International Cultural Trade, Beijing Friendship Store; M Woods Museum (Qianliang Hutong), Beijing,
12.31, 2022 - 03.12, 2023
Introduction
Singaporean visual artist Robert Zhao Renhui (b. 1983) works chiefly with photography but often adopts a multi-disciplinary approach, presenting images together with documents and objects in the form of textual and media analysis, video and photography projects. His artistic practice investigates man's relationship with nature, utilizing convincing narratives to invoke doubts in its audience towards the concept of truth and its portrayal. His works has been exhibited globally, having held solo exhibitions in Singapore, China, Japan, Australia, and Italy, as well as participating in various biennales and photo festivals.
Recent exhibitions include Posthuman Ensemble, Asia Culture Center, Gwangju, South Korea (2021); From the Mundane World, He Art Museum, Foshan, China (2020); Busan Biennale: Words at an Exhibition, Museum of Contemporary Art Busan, Busan, South Korea (2020); Singapore Biennale: Every Step in the Right Direction, Singapore (2019); The Lines We Draw, Yalu River Art Museum, Dandong, China (2019); Effect, Orange County Museum of Art, Los Angeles, USA (2019); Observe, Experiment, Archive, Sunderland Museum and Winter Garden, London, U.K (2019); The 9th Asia Pacific Triennial of Contemporary Art, Queensland Art Gallery, Gallery of Modern Art (QAGOMA), Australia (2018); JIWA: Jakarta Biennale 2017, Jakarta, Indonesia (2017); 7th Moscow Biennale, Moscow, Russia (2017); A Guide to the Flora and Fauna of the World, Centre of Contemporary Photography, Australia (2015).
His works have been awarded The United Overseas Bank Painting of the Year Award (Singapore) in 2009 and The Deutsche Bank Award in Photography by the University of the Arts London in 2011. In 2010, he was awarded The Young Artist Award by the Singapore National Arts Council. He was also named as a finalist for the Hugo Boss Asia Art Award 2017 as the only Southeast Asian artist, and the 12th Benesse Prize 2019 for his work in the 6th Singapore Biennale. Most recently, he was awarded the inaugural Silvana S. Foundation Commission Award in 2020 and Excellence Award in the 44th New Cosmos of Photography competition in 2021.
上海香格纳文化艺术品有限公司
办公地址:上海市徐汇区西岸龙腾大道2555号10号楼
© Copyright
ShanghART Gallery
1996-2022

沪公网安备 31010402001234号