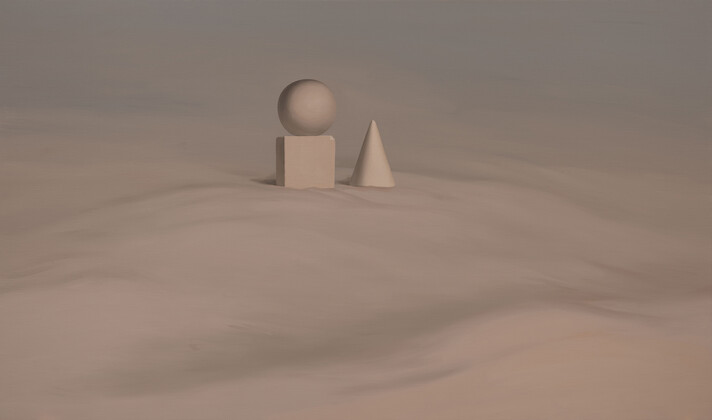 Bon Moment
, Red Brick Art Museum, Beijing,
04.06, 2023 - 07.09, 2023
Introduction
Yan Bing was born in 1980 in Tianshui, Gansu Province, China and graduated from Central Academy of Fine Arts in 2007, 3rd Studio of the Oil Painting Department. He lives and works in Beijing. Yan Bing directly uses ordinary or even primitive everyday objects as materials in his creation of different mediums, and probes their spiritual dimension through painting. Hidden behind the prosaic items of daily life he despicts is his own perception of life. The emotions revealed in Yan Bing's works are complex, while the simplicity is permeated with his sentiment and speculation, pain and joy. These works exuding an ancient quality reflects the artist's profound thinking about the relationship between his personal experience and the current living world.
Recent solo exhibitions include: Yan Bing: Pear Blossom Turns White, Guangdong Museum of Art, Guangzhou (2022); Yan Bing: Suddenly, Everything Became Clear, ShanghART, Shanghai (2021); Yan Bing: At First the Weather Was Fine, ShanghART Beijing, Beijing (2019); YAN Bing, Shanghai Minsheng Art Museum, Shanghai (2016); Superfluous Things, No.5, Hive Center for Contemporary Art, Beijing (2013); Farming Poems, White Box Museum of Art, Beijing (2012); My Labour, Gallery Yang, Beijing (2011); 51㎡14#, Taikang Space, Beijing (2010); Temperature - curated by Liu Xiaodong, UCCA, Beijing (2009). He also participated in numerous group exhibitions held by institutions including CAFA Museum, Beijing; Minsheng Art Museum, Beijing; Urban Arts Space, Ohio State University, U.S.A.; RH Contemporary Art, New York, U.S.A.; Xi'an Art Museum, Xi'an; Taikang Space, Beijing; Guanshanyue Art Museum, Shenzhen; and G • ART, Nanjing.
上海香格纳文化艺术品有限公司
办公地址:上海市徐汇区西岸龙腾大道2555号10号楼
© Copyright
ShanghART Gallery
1996-2022

沪公网安备 31010402001234号