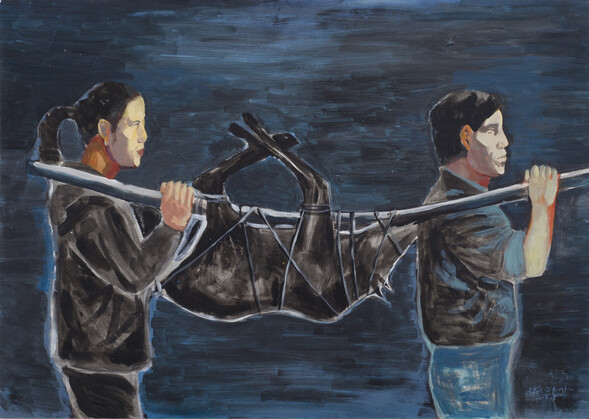 Introduction
Li Pinghu engages equally in video, painting, and photography, combining various styles, and he is as much a realist as an abstractionist. In Knowledge Changes Destiny (2010) and The Man on the Telephone (2010) the figures are vivid and intense, yet you never really identify or empathize with them as individuals. Perhaps they are not intended to be individuals at all, but to function as representatives of society, with a pervasive air of cool detachment and emotional reserve. Much as the figures participate, they remain uncomfortably solitary, embedded in their own private, unfathomable psyches. His work is characterized by a restrained technique that is also swift, dry, and minimal, as if under pressure to leave only what is necessary.
His newest (2010) series of paintings titled Facetia (name derived from Latin 'facetus' elegant) are just that. Monochrome images embellished with crystals forming a square in the centre. The colours of the paintings are held in a distinctive high-gloss palette of bright reds, pink, fuchsia, and blues, all measuring 100x85 cm. The visual vocabulary in his refined abstractions are drawn from observations of the world around him – colours found in plants, architecture, shadows on the wall – and has been shaped by his interest in the spaces between places and objects and between his work and the viewers. Video works addressing these subjects include Flight Line (2007), Xiao Ke (2006), and About Light (2006).
Li Pinghu (b. 1976) lives and works in Shanghai. He participated at the 52nd Art Biennale di Venezia Migration Addicts, Italy (2007), and held a solo-exhibition at 2577 Creative Garden in Shanghai, China (2006), and has lately been featured in Time of the Dragon - Contemporary Art from Shanghai, Rauma Art Museum, Finland (2012).
上海香格纳文化艺术品有限公司
办公地址:上海市徐汇区西岸龙腾大道2555号10号楼
© Copyright
ShanghART Gallery
1996-2022

沪公网安备 31010402001234号