Synthi-Scapes - 50th Venice Biennale 2003, Chinese Pavilion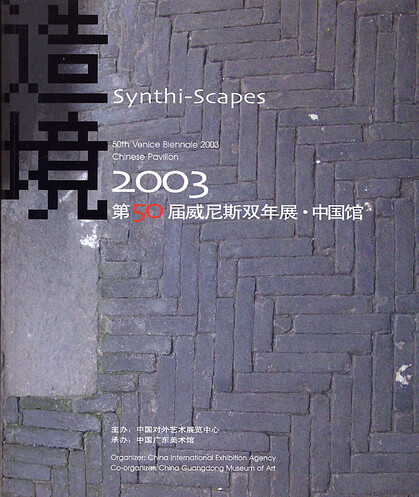 Author/Editor: FAN Dian/HUANG Du/WANG Yong
Languages: Chinese English
Introduction:
Due to SARS, the Chinese Pavilion was not realised in Venice where the Biennale opened in June 2003. With the joint efforts of the Ministry of Culture of China and the Organising Committee of the Venice Biennale, the Chinese Pavilion was organised to be put up at the Guangdong Museum of Art from 25 July to 31 August 2003.

The theme of the Pavilion is 'Synthi-Scapes', which, according to one of the curators, Wang Yong, carries the meaning of a 'new home', formed by five compartments: a 'porch' (Reconstruction by Zhan Wang), a 'drawing room' (Urban Landscape by Wang Shu), a 'living room' (a video installation by Yang Fudong), a 'study' (Landscape Study by Lu Shengzhong), and a 'bedroom' (a ceramic installation by Liu Jianhua). Thus, the Pavilion and the artwork it houses can be seen as a projection of the developing Chinese society and culture, a space where the anicent and the modern, the Chinese and the Western meet. The idea of a 'new home' also carries the idea that the Chinese Pavilion has found a home in Venice for the first time.

The present catalogue features essays which elaborate on the theme of the Chinese Pavilion. Introduction of the artworks and the artists is provided. With foreword by Zhang Yu (President of China International Exhibition Agency) and Wang Huangsheng (Director of the Guangdong Museum of Art).
---
上海香格纳文化艺术品有限公司
办公地址:上海市徐汇区西岸龙腾大道2555号10号楼
© Copyright
ShanghART Gallery
1996-2019

沪公网安备 31010402001234号