Permanent Installation of Ding Yi's Paintings at Fosun's 28 Liberty
Project New York, U.S.A.
Date: 05.06, 2016 - 05.07, 2016
Artists:
DING Yi 丁乙
|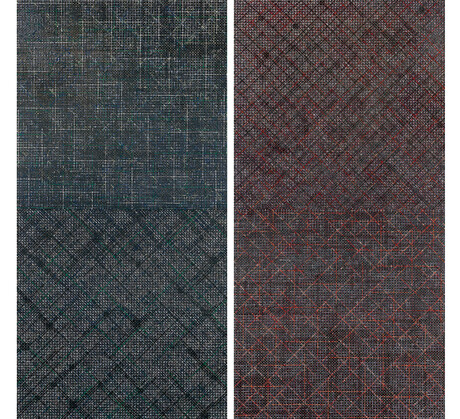 DING Yi, Appearance of Crosses 2015-10 & 9
28 Liberty Street, New York
Friday May 6, 6pm
Ding Yi Unveiled at Manhattan Landmark during Frieze Week in New York

ShanghART Gallery is proud to announce the unveiling of two remarkable paintings by Ding Yi at Fosun's iconic Lower Manhattan office Tower, 28 Liberty. Alongside the presentation of these monumental permanent works, the North Lobby of the building will hold a two-day exhibition, running from 6-7th May, featuring 21 rarely seen pieces from the world-renowned Chinese painter.

Formerly named One Chase Manhattan Plaza, the Gordon Bunshaft designed building was once the headquarters of Chase Manhattan Bank. In 2013, Fosun Property purchased the building and reopened with the new name 28 Liberty after a comprehensive renovation. The building has been acclaimed for a grand history with modern art after its inauguration in 1961, especially the notable sculpture Group of Four Trees by Jean Dubuffet which stands in the plaza, and Sunken Garden by Isamu Noguchi. Grand femme debout I-V, the largest sculpture by Alberto Giacometti, was also conceived for One Chase Manhattan Plaza. In 2009, the building was designated as a landmark by the New York City Landmarks Preservation Commission.

Born in 1962, Ding Yi has been a bold innovator since he committed himself to abstract painting in the late 1980s, and regarded as one of China's foremost artists. By exploring an abstract aesthetic through the systematic repetition and thematic variation of cross and grid –which later becomes his signature - he escape from oppressive social standards of the 80s and express himself in a free but orderly way, both minimalist and highly expressive. His perennial idiom - the cross - speaks to the context of the industrial-paced development of the urban environment in post-socialist China. The two large-scaled paintings to be unveiled, Appearance of Crosses 2015-9 and Appearance of Crosses 2015-10 were exhibited on the artist solo show at Long Museum West Bund in Shanghai in 2015, employing a new approach merging painting with engraving. By using thick layers of lacquer-like paint scored through to reveal searing layers of color, his grid becomes even more rich and complex, which echoes the cyclical pattern of Taoist concepts of nature and the cosmos as constantly developing through stages of growth and decay, waxing and waning. Measuring 16 ft x 8 ft each each and painted predominantly in black, these artworks recall ancient monumental stele, which historically were made of dark stone and incised with calligraphic inscriptions. The two paintings will be placed permanently in the building's northern lobby, enabling visitors get a close look of paintings by one of the most brilliant Chinese contemporary artists.

Art Basel Art Unlimited
Another masterpiece by Ding Yi will be exhibited next at Art Basel Unlimited in June. Measuring 5 meters high by nearly 12 meters width (197 x 472 inches) Appearance of Crosses 2016-B10 is his largest work so far. (Art Basel, Switzerland, June 16- 19)

Ding Yi (b. 1962) was born in Shanghai and currently lives in Shanghai. His series of paintings, whether predominantly black, based on tartan or else elaborated in intense fluorescent colors, all bear the title Appearance of Crosses with a date. His perennial idiom-- the grid-- speaks to a context in place and time, through its association with the frenetic communications networks and distinctive fluorescence of the contemporary city.

A major retrospective of the artist's work is currently on show at Hubei Museum of Art in Wuhan till June 2. Other venues that have hosted important solo exhibitions over the past decade include Ikon Gallery, Birmingham, U.K.(2005); Museo d'Arte Moderna di Bologna, Bologna (2008); Minsheng Art Museum, Shanghai (2011); and Long Museum West Bund, Shanghai (2015).

Work by the artist can be found in many prominent institution collections, including Centre Pompidou in Paris, Daimler Art Collection in Berlin, DSL Collection in Paris, Leeum, Samsung Museum of Art in Seoul, Long Museum in Shanghai, M+ in Hong Kong, Yuz Museum in Shanghai, among numerous others.

Further information about the artist is available at www.shanghartgallery.com.

ABOUT FOSUN
As one of China's leading investment groups, Fosun Group has been dedicated to art and culture from a global perspective. In 2014 with TPG, Fosun acquired "Cirque du Soleil" - the world's best-known producer of high-quality live artistic entertainment. This fall, the foundation will open its new art space designed by Thomas Heatherwick in the Bund Finance Center, who is known for his design of UK Pavilion at Shanghai Expo. The inauguration will accompanied by a special commissioned work from Tatsuo Miyajima, launching the foundation's extensive plan in collecting and presenting art of 21st century.

Fosun is donating 35,000 s/f of space at 28 Liberty to the Lower Manhattan Cultural Council (LMCC) to use as studio space for its Workspace Artist in Resident program. As part of the exhibition event, Ding will meet with LMCC's resident artists during a cocktail reception on May 6, celebrating the coming together of Eastern and Western artists

Please join Ding Yi in the unveiling of these monumental works as well as a temporary showcase of 21 drawings by the artist at the historic 28 Liberty building.

28 Liberty Street
Friday 6th May from 9am to 9pm.
Cocktail reception from 5:30pm to 6:30 at 19th Floor
Press enquiries and RSVP to dingyiartstudio@126.com
---
More Pictures:
Opening
Permanent Installation Works
28 Liberty, New York, U.S.A.
Works Exhibited :
---
上海香格纳文化艺术品有限公司
办公地址:上海市徐汇区西岸龙腾大道2555号10号楼
© Copyright
ShanghART Gallery
1996-2019

沪公网安备 31010402001234号