Zhao Yang: In Between
Solo Exhibition Kuandu Museum of Fine Arts, TNUA, Taipei
Date: 12.23, 2016 - 02.12, 2017
Artists:
ZHAO Yang 赵洋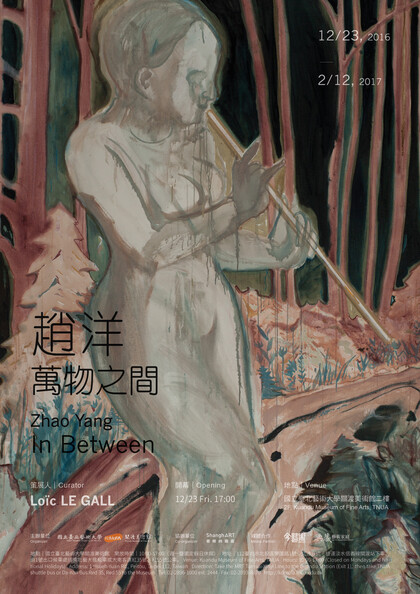 Curator: Loïc Le Gall
Opening: 17:00 Fri. 23rd Dec., 2016
Duration: 23rd Dec., 2016 to 12th Feb., 2017 | 10:00-17:00 (Close on Monday)
Address: 2F, Kuandu Museum of Fine Arts, TNUA
Opening on 23rd of December, "In Between" is Zao Yang's first major exhibition in Taiwan, presenting more than 20 pieces of his works. The artist, born in 1970, has been deeply influenced by poetry and the major classics. For many years, he inhabited the world of books, working at a Children's publisher house. This unconventional path into art has enriched his work, without making it too inaccessible. His work is stamped with a trademark aesthetic, which mingles inspiration from Chinese masters with influences from contemporary western painters.

The exhibition is built around the common theme of "Uncanniness", (Das Unheimliche), a psychoanalytical concept coined by Sigmund Freud to describe something which is the result of a departure from ordinary rationality. In Zhao Yang's work, fiction and the bizarre emerge through various layers of life, superimposed to form the "In between". The notion of re-painting is a recurring theme used to draw in the viewer, and the artist freely paints over previous works including those of his father. Hovering uncertainty and going back in time are core forces behind his work.

The exhibition is being held on the second floor of the Kuandu Museum of Fine Arts, and is built around three central driving themes. The first focuses on modernity and the contemporary world. In Zhao Yang's work, the present is often twisted, violent and verges on the nightmarish. It is in this part of his work that viewers will discover his oldest pieces, testimony to a darker period than can be found in more recent compositions. Hybrid, and sometimes deformed animals are depicted alongside cars and other ordinary objects taken from everyday life – such as a junkyard, abandoned buildings, a merry-go-round or a power station. Zhao Yang brings us his disinherited world, which ultimately is a world with which everyone can identify.

In the second section of the exhibition, nature forms the focal point of studies into its complexity and primitiveness. Zhao Yang who was born in Jilin, always loved wandering through its mountainous terrain, which instilled his permanent desire to return to the essence of things. Ancestral themes run through his creations, marking them with themes, such as hunting and landscapes. Hunting, as a case in point, becomes a simple act of finding food, conducted in perfect balance with the provider, mother nature.

The third episode on display is the science of portrait painting, developed to a new plane by Zhao Yang, and devoted to myths and legends. The paintings stage famous tales, such as the white serpent, but more importantly they cultivate an apparently limitless personal mythology. Consequently, mermaids and centaurs are summoned to appear, and blend with the artist's vision of primitivism. These figures take the shape of a wild, ideal man, a being returning to its roots, and living in union with the world.


ZHAO Yang, born in Jilin province 1970 and graduated from the China Academy of Fine Art, Hang Zhou in 1995. He currently lives and works in Beijing, his recent exhibitions include: 'Zao' by ZHAO Yang, ShanghART Main Space & H-Space, Shanghai(2016); Une histoire: art, architecture, design des années 1980 à nos jours, Collections contemporaines, Centre Pompidou, Paris, France (2015); China 8 , Contemporary Art from China at the Rhine and Ruhr, Lehmbruck Museum, Duisburg (2015); Semi-automatic Mode 2, ShanghART Beijing, Beijing (2014); Lost Portrait, Long Museum, Shanghai (2014) , The Bottomless Pit, ZHAO Yang Solo Exhibition, Upto Art Space, Shanghai (2013); Ignition Point, Duolun Museum of Modern Art, Shanghai (2013), etc.
---
More Pictures:
Works Exhibited :
Links:
---
上海香格纳文化艺术品有限公司
办公地址:上海市徐汇区西岸龙腾大道2555号10号楼
© Copyright
ShanghART Gallery
1996-2019

沪公网安备 31010402001234号