Talk: Hu Liu, Fei Dawei, Wang Mingnan —— We are Born Blind
Event ShanghART Library, Shanghai
Date: 03.17, 2017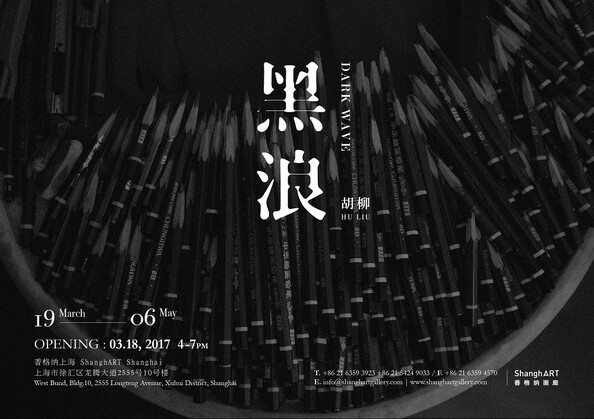 HU Liu, FEI Dawei, WANG Mingnan
Time: 2017/3/17 3PM
Location: ShanghART Gallery F2, West Bund, Bldg.10, 2555 Longteng Avenue, Xuhui District
Taking a glimpse at HU Liu's work, you will be overwhelmed by black. But it is not simply black. Her work is the result of time and thinking, perception and courage, in an appearance of layers consisted of repeated drawing of black lines. Black, the light-absorbing colour and the reflection of graphite intertwine to form the depth and space of these paintings.

Obviously, this kind of work is not what we are familiar to. Why did she, a painter majored in ink wash painting, gradually deviating from the traditional painting way and find this unique language? What does this language mean for her? In these works, how does HU establish new contact with traditional Chinese painting? And how does the physical space and spiritual space transfer within her paintings?

As HU Liu mentioned in an interview, "We are born blind". This is a question of viewing. This may be one of the keys to our understanding of her work. The way of viewing will lead to the way of expression. Why we are born blind, and why we can't see the object? What is the obstacle to viewing?

On March 17, before the opening of Dark Wave, we invite curator FEI Dawei, guest WANG Mingnan and HU Liu, to have a conversation in presence of the works.


HU Liu
Artist,born in 1982, now she resides and works in Beijing.

FEI Dawei
Art critic, curator. He was born in Shanghai in 1954, and now lives and works in France. FEI is one of the most important contemporary art critics and curators in China. He has been devoted to promote Chinese contemporary art since 1980s. FEI is one of the earliest leading powers to bring Chinese contemporary art under international spotlight. He has made great contribution to exchanges and communications in the field of contemporary art between China and the world.

WANG Mingnan
Translator, PhD Candidate in Art Hisory and Museum Studies of École du Louvre. WANG is concerned about humanity writing, museum collection and exhibiton practice.
---
More Pictures:
Related Exhibitions:
Hu Liu: Dark Wave
03.19, 2017 -05.10, 2017

---
上海香格纳文化艺术品有限公司
办公地址:上海市徐汇区西岸龙腾大道2555号10号楼
© Copyright
ShanghART Gallery
1996-2019

沪公网安备 31010402001234号