ALAYA
Solo Exhibition chi K11 Art Museum, Shanghai
Date: 03.18, 2018 - 06.17, 2018
Artists:
ZHAO Yang 赵洋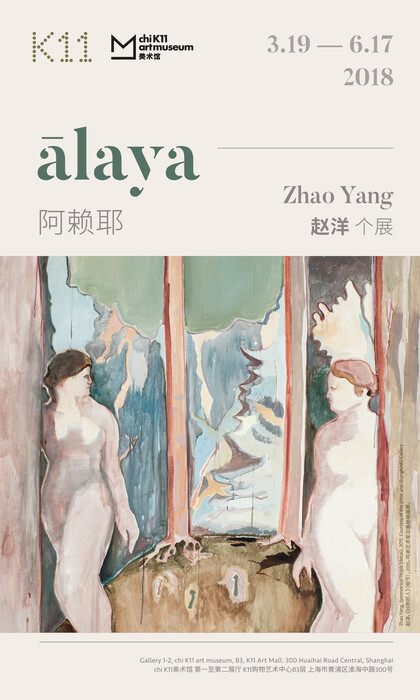 Opening: 18 March, 2018
Duration: 19 March - 17 June, 2018
Location: chi K11 Art Museum, Shanghai
Alaya: A solo exhibition by Zhao Yang

Zhao Yang (born 1970), graduated from the China Academy of Art and currently works and lives in Beijing, where he has embarked on a long-term career in painting. Zhao's first solo museum exhibition entitled Alaya, showcases a total of 39 paintings that he created from 2012 to 2017, and these works constitute the holistic spiritual world to which the artist aspires while also demonstrating his attempt to inject an effect of stagnation.

The exhibition's title, Alaya, derives from Buddhist terminology and is a transliteration of the Sanskrit word आलय (meaning "storehouse" or "receptacle"). Everyone's Ālaya is capable of gathering information about all his or her thoughts and behavior. When stimulated by external conditions, certain collected information and desires can be rekindled. Each of the artist's paintings enables viewers to face their own inner desires, prompting them to ask themselves, "Where do I come from, and where am I going?" Perhaps you have been busy your entire life, without ever reaching your ideal destination, or perhaps you have been ceaselessly climbing upward, while ultimately failing to reach the summit. In the process of painting, the artist extricates himself from habitual modes of thinking and perception and thus is able to tap fully into the essence of things from behind their illusory façades.

The artist is fascinated by the part of semiotics (the study of signs and symbols) that can be applied to his research on various postures of the human body. He seeks to use this body of knowledge to explore the relationship between people and to reflect on how human beings "confirm" and "deny" themselves. The themes of Zhao's works include interpreting the states of the five senses and the human torso in different contexts as well as how action and awareness form a feedback mechanism with the outside world. This feedback, which is sensitive and real, is often overlooked. However, through his unique understanding of the human body, the artist uses his paintbrush to reveal the imperceptible and inaccessible mysteries hidden within our bodies in order to interpret the self-judgment in which humans engage.

The artist expertly lays out the boundaries of the human body on the pictorial plane. Through symmetry, folding, and other compositional methods, he presents small, localized parts of these boundaries, and in his works, he stitches together a variety of contradictory objects and explores whether objects can be visually rendered in a state of reversal and imbalance that defies causality, thereby adopting an alternative method for creating an awareness of the world in which we live.
---
More Pictures:
Works Exhibited :
---
上海香格纳文化艺术品有限公司
办公地址:上海市徐汇区西岸龙腾大道2555号10号楼
© Copyright
ShanghART Gallery
1996-2019

沪公网安备 31010402001234号