Frieze London 2018 , Booth No. A13
Solo Exhibition Art Fairs Regent Park London, U.K.
Date: 10.03, 2018 - 10.08, 2018
Artists:
OUYANG Chun 欧阳春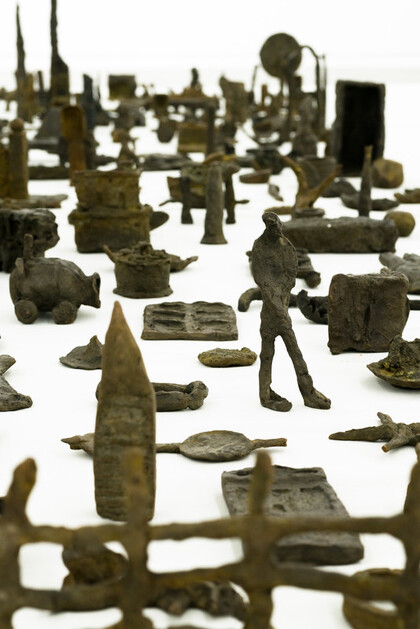 Public days 5/6 October (Friday/Saturday): 12pm-7pm
7 October (Sunday): 12pm-6pm
Preview 3/4 October (Wednesday/Thursday): 12pm-8pm

'Detritus 1999/2013' is an unique, large scale sculpture and photo installation by Beijing born, Xi'an educated and now again Beijing based artist Ouyang Chun. 'Detritus 1999/2013' combines all the 62 photos of Ouyang Chun early 'Garbage Assemblage' series (photos of now lost objects, unique, 1999) with the 973 bronze sculptures of his so far most complex 3 dimensional work 'Volcanic Ash' (ed 3, 2013).

It is the first time this work is shown in its complete version.

Detritus and wastes are recurring themes in Ouyang Chun's works. The artist sees in garbage not what we cast out, but a prime locus of meaning in our lives. In 1998, Ouyang Chun had been painting alone in Xi'an for many years already, painting and living on the margins of this city in the NW of China. Rail lines are the link to the far away the cities, objects found along the rail lines, discarded detritus and debris become the seeds of a longing for an other, better life. Ouyang Chun relished each piece of 'garbage' carefully, built assemblage and sculptures from them, whimsical, inspired, sad and full of hope to be a part of this world, to play around with the things this world offers. Ouyang Chun moved many times and most of these sculptures got lost along the way. What's left are the photos.

Mud or earth is where we come from and where we will eventually return. Ouyang Chun says, earth is so paradoxical and beautiful. When holding earth in hands to create works, it felt like a wonderful experience of recollecting memories of the world. Actually, earth indeed carries our memories. At times, I went to the countryside or riverbanks and tried to dig things out of the earth. The things I discover often appeared mottled, vague and puzzling. But precisely because of being covered by earth, these objects were of incredible beauty, like Revelations.

"Volcanic Ash" was like a new excavation for Ouyang Chun, who was long known as a pure painter. The process of kneading clay sculptures and then casting them into bronze was an original and fresh experience for the skillful brush holder. 13 years have passed since the 'Rubbish Assemblages", the artist has long moved to Beijing, been living in the reality of the big modern city. The 973 small sculptures include Ouyang Chun's understandings about art history, his wife's hands and daily supplies as the detritus. Every piece could be picked up and touched. There is no fixed relationship between them, no whimsy assemblages anymore, but the figures are just neatly placed together. And they are cast in bronze, not to disappear again.

This is the all-encopassing real life suggested by Ouyang Chun. Even he identifies himself as a small potato on the margin of the field, he still feels comfortable while facing this real world, and full of longing about his life: any object could be the fertilizer for the mud, like the rain and the sunlight. And they are cast in bronze.
---
More Pictures:
Related PDF:
---
上海香格纳文化艺术品有限公司
办公地址:上海市徐汇区西岸龙腾大道2555号10号楼
© Copyright
ShanghART Gallery
1996-2019

沪公网安备 31010402001234号