The Armory Show 2019 , Booth: 702
Solo Exhibition Art Fairs Pier 94, New York, U.S.A
Date: 03.07, 2019 - 03.10, 2019
Artists:
Lynn HERSHMAN 林恩·赫舍曼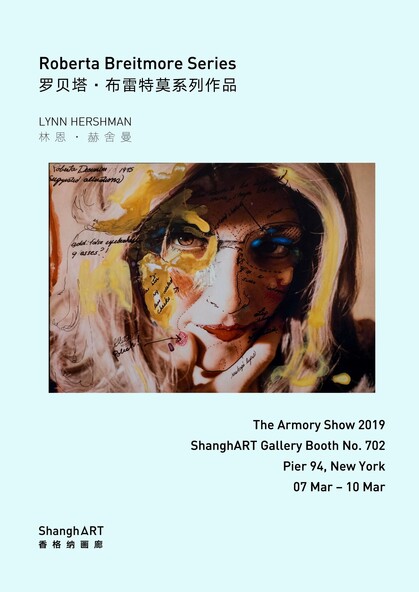 VIP Preview:
Wednesday, 6 March 2019

Public hours:
Thursday, 7 March, 12-8pm
Friday, 8 March, 12-8pm
Saturday, 9 March, 12-7pm
(11am to 12pm VIP viewing only)
Sunday, 10 March, 12-6pm
(11am to 12pm VIP viewing only)
ShanghART Gallery's presentation of Lynn Hershman at The Armory Show 2019 showcases of her representative and critical series of works from Roberta Breitmore in 1973 – 1978, along with other early works following this series. Playing a fictional persona, Roberta Breitmore, the artist sought to examine the relationship between individuals' "real" and "virtual" identities – a topic that is still very much relevant in this day and age of consumerism.

The creation of Roberta Breitmore is the existence of "another self", or Lynn Hershman's alter ego, consisting not only of the appearance transformation through makeup, wigs and dressing which occupied all the role-playing, but a full-fledged, socially constructed identity in the real world and over a period of time, with authentic and reliable evidence: from a driver's license and credit card to letters from her psychiatrist. The accumulation and reproduction of these fictional traces is an awakening process to the artist's self-awareness and identity.

The works from this landmark series, viewed 40 years later, offers us a glimpse into Lynn Hershman's artistic approach, giving us an opportunity to better understand the artist who has not just been advancing with the times, but often even ahead of her time.
---
More Pictures:
Related PDF:
Links:
---
上海香格纳文化艺术品有限公司
办公地址:上海市徐汇区西岸龙腾大道2555号10号楼
© Copyright
ShanghART Gallery
1996-2019

沪公网安备 31010402001234号