Thailand Biennale Krabi 2018: Edge of the Wonderland
Group Exhibition Krabi, Thailand
Date: 11.02, 2018 - 02.28, 2019
Artists:
YANG Zhenzhong 杨振中
|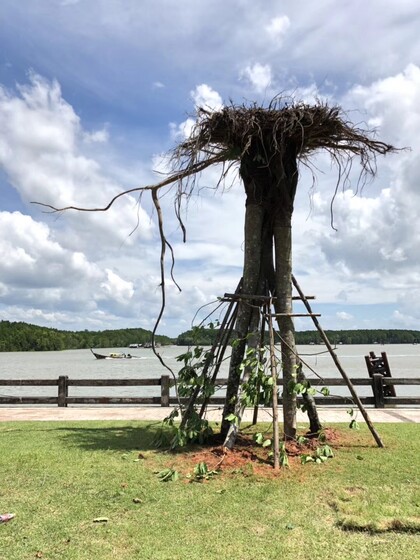 THE FIRST THAILAND BIENNALE
Edge of the Wonderland
2 November 2018 to 28 February 2019
Curator: JIANG Jiehong
Artists: YANG Zhenzhong, etc
The Office of Contemporary Art and Culture (OCAC), Ministry of Culture, Thailand
Located on the lawn beside the pathway of Kong Ka Pier, Krabi, Yang Zhenzhong's imposing installation tests the laws of nature. To Be or Not to Be comprises ten banyan trees planted upside down in a straight line. The naked and entwined roots contradict the natural foliage normally found on tree branches and the typical lush vegetation of Thailand. This is not the artwork's only paradox. The artist digs the trees from the soil, inverts them and plants their branches in the ground to challenge and probe the capability of both nature and plants to nourish themselves in extreme and abnormal conditions. The logic of the work operates beyond the actual reality to pervade a parallel land where buried trees and intricate root leafage constitute the quotidian landscape.
---
More Pictures:
Works Exhibited :
---
上海香格纳文化艺术品有限公司
办公地址:上海市徐汇区西岸龙腾大道2555号10号楼
© Copyright
ShanghART Gallery
1996-2019

沪公网安备 31010402001234号