Renovation
Solo Exhibition ShanghART M50, Shanghai
Date: 02.14, 2019 - 09.06, 2019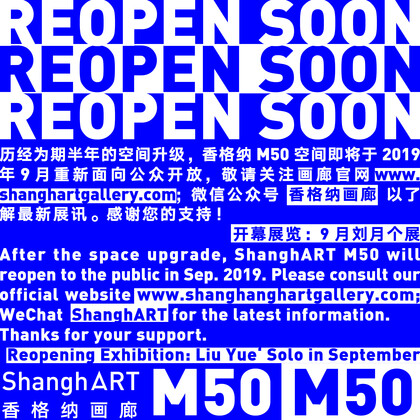 After six months of space upgrading, ShangART M50 will finally reopen to the public in September. The upgraded space will be divided into two areas - the exhibition area and the project area, creating more opportunities for displaying cutting-edge and abundant art forms.

ShanghART M50, located at Building No.16 of 50 Moganshan Road, was formerly the boilder room of Chunming Slub Mill. It was first adapted into ShanghART's warehouse in 2002, and later turned into a multifunctional art exhibition space.

The exhibition area will focus on emerging artists and their projects, and aims to continuously support the ideas of a new generation. It will provide space for young curators to execute their inventive and experimental exhibition plans. Furthermore, the space promotes various forms of collaboration among domestic and international contemporary art institutions to facilitate communication through platforms sharing.

Meanwhile, the project area will hold long term art programs that resides in the building, accommodating experimental art experiences that expands the boundaries of contemporary art.

The first show of the reopened exhibition area will be Liu Yue's solo exhibition "Volume" on 6 September. He will create an onsite installation within the space for approximately 45 days, with the work spreading out from one corner of the room. By pushing himself and the space into an extreme state, he attempts an irreversible derivation. The work will be composed through analysis of topology, discussing the unlimited rule and disorder within the superposition of replication.

"Jing Bang" will be the first long period project in the project area. It is based on Sun Xun's first animated feature film "Magic of the Atlas". This will be a three year long themed project mixing art, film, painting and space creation to construct a "video museum" that expands into the unknown.
---
---
上海香格纳文化艺术品有限公司
办公地址:上海市徐汇区西岸龙腾大道2555号10号楼
© Copyright
ShanghART Gallery
1996-2019

沪公网安备 31010402001234号