Full of Peril and Weirdness: Painting as a Universalism
Group Exhibition M Woods, Beijing
Date: 10.29, 2015 - 01.25, 2016
Artists:
OUYANG Chun 欧阳春
|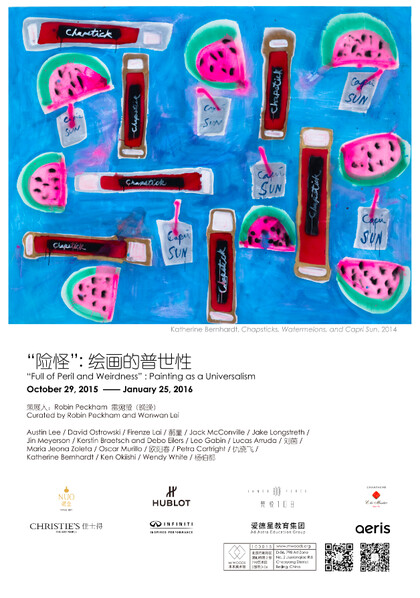 "Full of Peril and Weirdness": Painting as a Universalism
Curated by Robin Peckham and Wanwan Lei
October 29, 2015 - January 25, 2016
Featuring the work of 21 artists from eight different countries, this exhibition will trace many different approaches to the practice of painting today. Highly contemporary, the exhibition's title is drawn from a text by the eleventh-century art critic Guo Ruoxu, who uses the phrase "full of peril and weirdness" to describe a painting– among the first recorded instances of such words being used in praise, rather than as condemnation, when describing a work of art. This reference serves as an inspiration for the show's understanding of contemporary painting as an expansive medium whose modernism is largely predicated on ambition, idiosyncracy, and risk.

Artists in the exhibition include Lucas Arruda, Katherine Bernhardt, Kerstin Braetsch and Debo Eilers, Petra Cortright, Leo Gabin, Hao Liang, Jake Longstreth, Ken Okiishi, Firenze Lai, Austin Lee, Liu Yin, Jack McConville, Jin Meyerson, Oscar Murillo, Ouyang Chun, David Ostrowski, Qiu Xiaofei, Wendy White, Bodu Yang, and Maria Jeona Zoleta.
---
More Pictures:
---
上海香格纳文化艺术品有限公司
办公地址:上海市徐汇区西岸龙腾大道2555号10号楼
© Copyright
ShanghART Gallery
1996-2019

沪公网安备 31010402001234号