The Painted Screen: Past and Future
Group Exhibition Suzhou Museum, Suzhou
Date: 09.06, 2019 - 12.06, 2019
Artists:
YANG Fudong 杨福东
|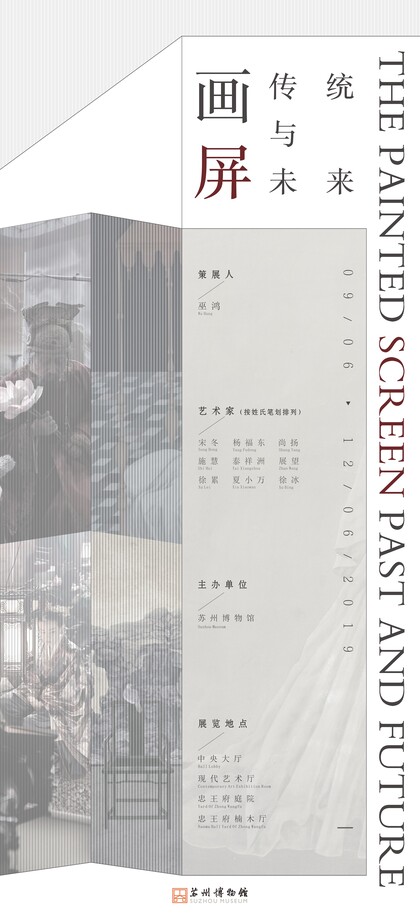 Yang Fudong
Beyond GOD and Evil - First Chapter
2018 - 2019
16-channel colour video, immersive spatial installation
Site-specific sound: Wang Wenwei

Reservation required. (Please check below link to make a reservation online)

The "The Painted Screen: Past and Future" curated by Wu Hong is on view at the Suzhou Museum on September 6. This exhibition showcases a number of fine screens of the domestic and international museum, including a wide range of paintings, stone carvings, Ming and Qing handicrafts, etc. At the same time, the exhibition also collaborates with eight contemporary and contemporary artists at home and abroad to present artistic creations with the theme of screen elements. As one of the participating artists, Yang Fudong presents his latest work, Beyond GOD and Evil - Chapter One. The exhibition will last until December 6.


Beyond GOD and Evil - First Chapter runs through three independent historical architectures in Nanmu Hall of Zhong Wang Fu Palace complex of Suzhou Museum with multichannel video installation. The moving images fluctuate in each space, resonate with the specially placed traditional wallpaper.

Yang ingeniously suspends a coloured glass ceiling above the patio which connected the south and north buildings of Nanmu hall. Moreover, a newly composed sound is lingering inside the unique site-specific installation. The artist embraces the historical background and the distinctive architectures experimentally accommodate the contemporary video installation among ancient architectural complex. Unifying the perspectives of culture, history and art from a different time, the complete set of work showcases the impact and harmony visually and audibly for public viewers. Yang Fudong adopts the western philosopher Nietzsche's three-hundred quotations as the lines in the film. The title of the work Beyond GOD and Evil is also originally from one of Nietzsche's eponymous classics. This exhibition presents the selected multichannel colour videos from the 36-channel "Dawn Breaking Dailies" of "Dawn Breaking - A Museum Film Project".


Yang Fudong finished the shooting of "Dawn Breaking - A Museum Film Project" in Long Museum (Westbund) Shanghai in 2018. He unfolds the process of filming as the presentation of the exhibition and the original artwork in the museum. He endeavours to break the way we see films and exhibitions as well as relations between artist and audience. The project will be continuously developing. The process is the film.
---
More Pictures:
Links:
---
上海香格纳文化艺术品有限公司
办公地址:上海市徐汇区西岸龙腾大道2555号10号楼
© Copyright
ShanghART Gallery
1996-2019

沪公网安备 31010402001234号