Welcome to Birdhead World Again - Tokyo 2019
Solo Exhibition Kudan House, Tokyo, Japan
Date: 12.08, 2019 - 12.10, 2019
Artists:
BIRDHEAD 鸟头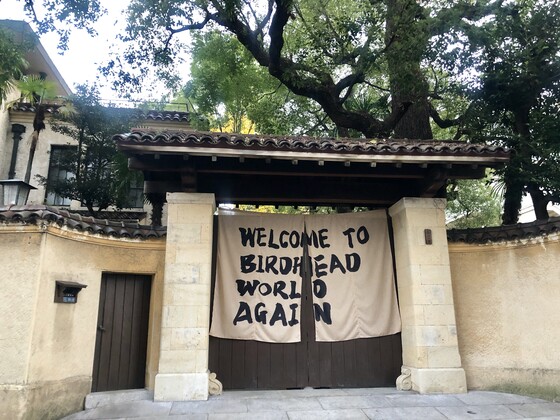 From 8 to 10 December 2019, Kudan House is pleased to present Birdhead's special project "Welcome to Birdhead World Again - Tokyo 2019". Built in 1927 by top architects including Tokyo Tower's designer Tachu Naito, Kudan House was home of the late Mankichi Yamaguchi and his family, and now become a project to showcase new culture in Japan and globally. In this beautiful Spanish-style historic mansion Birdhead will delivers a brand-new "Birdhead world", which will also be the first show bringing together the collective's new installations since the 2011 The NACT Annual Show of Contemporary Art at National Art Center, Tokyo.

Based on photography, combining collage, hand scrawls with a wide range of materials, the artistic practice of Birdhead is inspired by their interest in the history and culture of the East and reaction to the modern world. The signature photographic matrix will also be on view in this show - the curve of female nude and the Siberian snow mountains coincide, which creates rhythm in the whole picture by changing light and shadow. In addition, they explore the relationship between images and materials in other exhibits. For example, some Chinese characters have been taken apart and written on photographs, while the use of multiple meanings across time and space encourages imagination and innovation. In the new series "Phototheism" starting this year, Birdhead makes a lot of small yet playful "statues", which not only can be viewed as a three-dimensional version of the series "Crazybird", but also reflect their critical thinking of primitive art and religious worship.

About the Artist
The collective Birdhead was founded by Song Tao (b.1979) and Ji Weiyu (b.1980) in 2004 in Shanghai. Major exhibitions include: Welcome to Birdhead World Again - Lianzhou 2019, Lianzhou Museum of Photography, Lianzhou (2019); Living Cities,Tate Modern, London (2017); Birdhead were also nominated for the inaugural Hugo Boss Asia Art Award in 2013; New Photography 2012, MoMA, New York, U.S.A. (2012); Illuminations, The 54th Venice Biennale, Venice, Italy (2011); Artist File 2011 The NACT Annual Show of Contemporary Art, National Art Center, Tokyo, Japan (2011) etc.
---
More Pictures:
Works Exhibited :
---
上海香格纳文化艺术品有限公司
办公地址:上海市徐汇区西岸龙腾大道2555号10号楼
© Copyright
ShanghART Gallery
1996-2019

沪公网安备 31010402001234号