Zhang Enli
Solo Exhibition Shanghai Art Museum, Shanghai
Date: 12.08, 2011 - 12.22, 2011
Artists:
ZHANG Enli 张恩利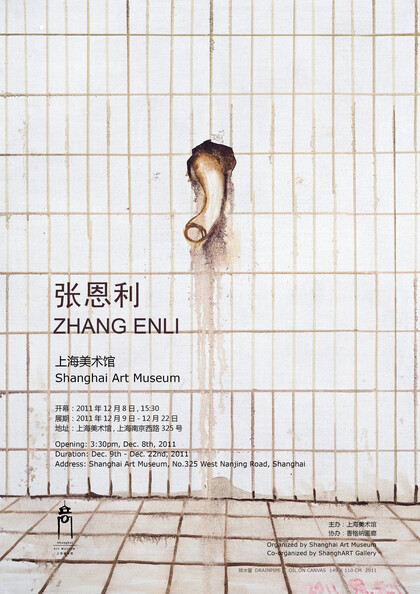 Opening: 3:30pm, Dec. 8th, 2011
Duration: Dec. 9th - Dec. 22nd, 2011
Address: Shanghai Art Museum, No.325 West Nanjing Road, Shanghai
In the era which forges globalization at an unprecedented speed, ZHANG Enli leaves aside the general social significance and aesthetics and is obsessed with his empty sphere with "gray scale". He takes a close look at the joint point in its deepest level where social activity and the structure of system meets —— everyday life, and constructs the real scenarios on both spiritual and mental basis. (ZHANG Qing)

ZHANG Enli Solo Exhibition is to be staged in Shanghai Art Museum from December 9th to 22nd in 2011. And it is another crucial museum exhibition ever after the one in Minsheng Art Museum in the end of 2010. In this exhibition in December, important works from newly completed series Still Life and Space will be displayed. "Things" always stand as the focus of the artist's creation these years. Ordinary things, which are least attractive, the most widely utilized and the most unlikely to be noticed in everyday life, however, become the objects that fascinate the artist. They are rendered by his plain and yet accurate brushes to manifest the ultimate realness of life left in them. Moreover, "space" is another theme that captivates the artist's eyes. From ZHANG's paintings, we often detect his discovery of aroma emitted from the passage and erosion of time under seemingly mundane circumstances. Again and again, he opts for the things that appear far too familiar to us as the themes of his creation and prompts our reconcentration on them.

ZHANG Enli was born in 1965 in Jilin Province. Graduated from Arts & Design Institute of Wuxi Technical University in 1989, the artist is currently working and living in Shanghai. He has displayed his works in Gwangju Biennale 2010 - 10,000 Lives (Gwangju Biennale Hall, Gwangju Museum of Art, Gwangju Folk Museum, Korea), Trans Local Motion - 7th Shanghai Biennale 2008 (Shanghai Art Museum, Shanghai) and Circulate, There is Nothing to See, Objectif Exhibitions (Antwerp, Belgium, 2007). The most recent solo exhibitions of the artist include Zhang Enli, Hauser & Wirth, New York, U.S.A. (2011), Zhang Enli, Minsheng Art Museum, Shanghai (2010), Zhang Enli, Kunsthalle Bern, Bern, Switzerland (2009) and Zhang Enli, Ikon Gallery, Birmingham, U.K. (2009).
---
More Pictures:
News:
Related Texts:
---
上海香格纳文化艺术品有限公司
办公地址:上海市徐汇区西岸龙腾大道2555号10号楼
© Copyright
ShanghART Gallery
1996-2019

沪公网安备 31010402001234号