One World Exposition / Fifth Night
Group Exhibition Spring Workshop, Hong Kong
Date: 12.11, 2011 - 01.08, 2012
Artists:
YANG Fudong 杨福东
|
Special Exhibition Opening: 'Fifth Night' by Yang Fudong
Date: 11 Dec 2011
Time: 12 - 5pm | Open to public
Spring Workshop | 3/F, Remex Centre, 42 Wong Chuk Hang Road, Hong Kong
Exhibition Period: 12 Dec 2011 - 8 Jan 2012 | Time: 12pm - 8pm (Wed - Sun) | Spring Workshop
'The Fifth Night' is a video installation composed of seven synchronized projections. These videos feature old Shanghai scenes, including carriages, rickshaws and vintage cars. In the middle of the scene a stage has been built, a few jars with fishes have been placed on a table and a tramway is being frenetically repaired. Vague views of people without any relationship are shown. Anxious, hesitating men and women here and there attend to their own duties. A scene's foreground can become the next scene's background; the long screen of seven projections is created to have more depth and to be more complete than 3D. Facing seven cameras, actors' expressions in each scene and camera angle are uncontrollable; this kind of randomness presents a certain subtle and unpredictable aesthetic.
The idea behind 'The Fifth Night' came from a reflection on film production, and a new filming and viewing method was introduced for this video installation: seven projections, going far beyond our visual field and habits, Yang Fudong calls it 'multiple views film'. The most important elements in the production of this work are the demeanors of the actors, as well as viewers' feelings of the space.
---
More Pictures:
Works Exhibited :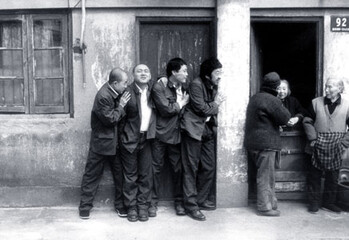 Links:
---
上海香格纳文化艺术品有限公司
办公地址:上海市徐汇区西岸龙腾大道2555号10号楼
© Copyright
ShanghART Gallery
1996-2022

沪公网安备 31010402001234号