Filter the Public , Shanghai World Financial Center 5th Anniversary Art Project
Group Exhibition Shanghai World Financial Center, Shanghai
Date: 10.25, 2013 - 11.10, 2013
Artists:
DING Yi 丁乙
|
LIU Weijian 刘唯艰
|
XU ZHEN® 徐震®
|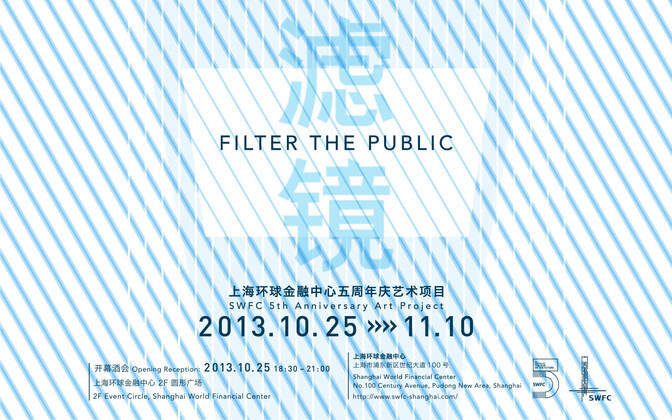 We are pleased to announce "FILTER THE PUBLIC" as the large-scale art project to commemorate the SWFC 5th Anniversary.

As one of the most iconic landmarks in Shanghai, the prominence of SWFC does not only dwell within its horizontal space but yet include its unique design and height of 492 meters. The area of the exhibition will not only cover the public space, both indoor and outdoor, but also include SWFC tower itself as an art museum within its beauty of being an art piece.

Through art, people can realize more about things around themselves. Public art is a friendly approach which allows the space to have conversation with people.

Artists on behalf of Shanghai, leading curators, galleries will create their art shows under the same inspiration of Shanghai and Lujiazui area. To celebrate our anniversary, please welcome the new challenge of possibilities and the role of art in public space. SWFC is opening up the new dimension of art.

***

SWFC LED Urban Sculpture Project
18:00-23:00
Building Exterior LED Lights

Light up Shanghai skyscraper with three masterpieces from three artists on the SWFC LED screen-tower. We would like to celebrate the anniversary of this building on its LED projection in the town. Three artists are invited to create their LED art by using SWFC tower as the medium to display their stories. You are also invited to join and be a part of the show for the whole 17 nights in Shanghai.

***

丁乙 Ding Yi
10.25–10.29 18:00 -23:00

Titled Infinity, the work appears in the midst of the dense social and economic tissue that makes up the heart of Shanghai City. LED Light streams rapidly spread, intersect, expand and evolve above the moving stage. The endless changes born out of crosses, together with the sense of speed created by acceleration of switches on color and flashing frequency, compose an abstract inverted image of the city.
---
More Pictures:
Exhibition View of Divinity by MadeIn Company
Works Exhibited :
Related Exhibitions:
Infinity -LED Urban Sculpture Project
10.25, 2013 -10.29, 2013
Growing Up -Exhibition celebrating SWFC 3rd & ShanghART Gallery 15th Anniversary
10.25, 2011 -11.02, 2011

---
上海香格纳文化艺术品有限公司
办公地址:上海市徐汇区西岸龙腾大道2555号10号楼
© Copyright
ShanghART Gallery
1996-2019

沪公网安备 31010402001234号