Movement-MadeIn Company Fall 2012 Works Launch
Solo Exhibition MadeIn Company Exhibition Space, Shanghai, Building 8, 18 Wuwei Road, Putuo District
Date: 09.04, 2012 - 10.07, 2012
Artists:
XU ZHEN® 徐震®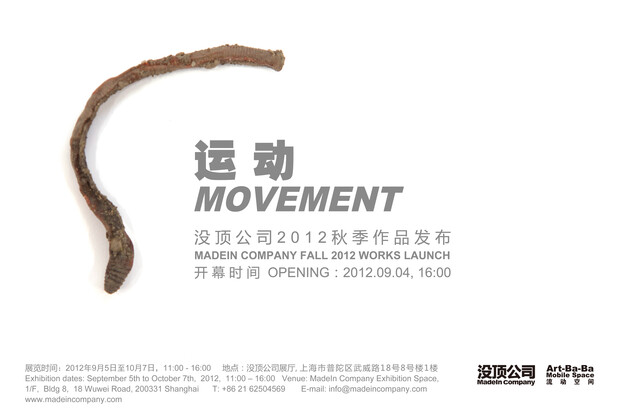 Opening: September 4th, 2012, Tuesday, 16:00
Exhibition dates: September 5th to October 7th, 2012, 11:00 – 16:00
Venue: MadeIn Company Exhibition Space
1/F, Bldg 8, 18 Wuwei Road, 200331 Shanghai
T: +86 21 62504569
E-mail: Alexia Dehaene alexia@madeincompany.com
www.madeincompany.com
MadeIn Company presents,"movement": a need of activity related to growth and spiritual reflection, a social action that aims to enrich life, improves one's condition and develops knowledge, through exercises, thoughts, experiences, judgments, etc. Within this concept, MadeIn Companywill show for the first time a new series of work Movement, which include installations, performance, paintings and other creations.

MadeIn Company was established in 2009 in Shanghai by Xu Zhen, it is a contemporary art creation company, focused on the production of creativity, and devoted to the research of contemporary culture's infinite possibilities.
---
More Pictures:
---
上海香格纳文化艺术品有限公司
办公地址:上海市徐汇区西岸龙腾大道2555号10号楼
© Copyright
ShanghART Gallery
1996-2019

沪公网安备 31010402001234号