The Invisible Hand: Curating as Gesture , The 2nd CAFAM Biennale
Group Exhibition CAFA Art Museum, Beijing
Date: 02.28, 2014 - 04.20, 2014
Artists:
XU ZHEN® 徐震®
|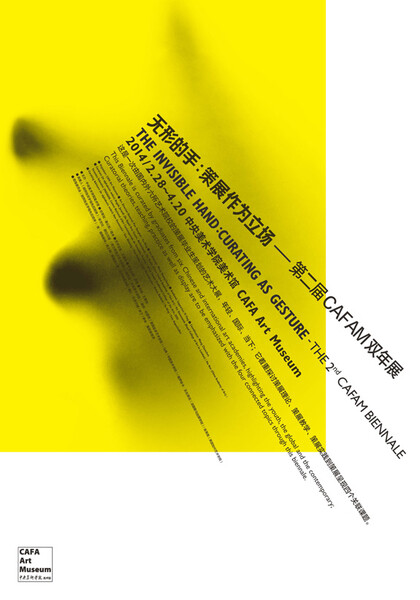 CAFAM Biennale is an exhibition organized by CAFA Art Museum every two years, on the platform of an academy's art museum. Started with the first exhibition "Super Organism: A Particular Research View and Experiment," it was successfully opened from September to November in 2011. The exhibition was positively commented by all social ranks and awarded as "2011' Best Exhibition" by several institutions and medium.

The 2nd CAFAM Biennale, entitled The Invisible Hand: Curating as Gesture, will stick to the international, contemporary and pioneering academic orientations, and explore the spirit, feature and characteristics of contemporary culture, cultural development and experiment. It will adopt innovative curating method, aim at establishing and developing a curating department in art academy, as well as play a unique and important role in contemporary curating practices. In addition, this Biennale invite professional curating teachers from internationally significant art academies as academic supervisor and curating graduates with outstanding achievements as curator, to form a curators' team which will fulfill the tasks of innovation, teaching and experiment. These recommended curators will be featured with their own academic interests, to enable the curatorial practice not only associate with art education, but also concern the ecology of contemporary art.

Since this is a trans-regional and trans-cultural biennale featuring horizontal curating practice, we would particularly emphasize the sur-experiential nature of the issue and topic presented by the curators. As the curators, we would also emphasize its sur-curating nature as an art research, i.e. by vertically contemplating history and horizontally establishing dialogues with different disciplines, highlights the concerns and particularity of contemporary international society. In addition, because this is an internationally cooperative biennale, the translations of concept, artwork and language remain one of our main concerns. Hence, with the sur-experiential, sur-curating and sur-translating method and objective, we, through pursuing after the value of a new biennale, are expecting to highlight and promote the trend of contemporary curating to construction of comprehensive knowledge and organic integration with art ecology, by way of academic education and social practice.
---
Works Exhibited :
---
上海香格纳文化艺术品有限公司
办公地址:上海市徐汇区西岸龙腾大道2555号10号楼
© Copyright
ShanghART Gallery
1996-2019

沪公网安备 31010402001234号