Hans van Dijk: 5000 Names
Group Exhibition UCCA, Beijing; Witte de With Center for Contemporary Art, Rotterdam, The Netherlands
Date: 05.24, 2014 - 08.10, 2014
More Locations:
Witte de With Center for Contemporary Art, Rotterdam, The Netherlands Sep 04, 2014 - Jan 04, 2015
Artists:
DING Yi 丁乙
|
GENG Jianyi 耿建翌
|
SHI Yong 施勇
|
WANG Guangyi 王广义
|
YU Youhan 余友涵
|
ZHAO Bandi 赵半狄
|
ZHANG Enli 张恩利
|
ZHOU Tiehai 周铁海
|
Dutch-born, Beijing-based curator, scholar, and dealer Hans van Dijk was a foundational influence on contemporary art in China, from his arrival in Nanjing in 1986 through his death in 2002. His myriad contributions include the New Amsterdam Art Consultancy, which connected Chinese artists with collectors and curators abroad; the China Art Archives and Warehouse, an experimental gallery and exhibition space; and the seminal 1993 exhibition "China Avant-Garde," the first show of Chinese contemporary art in Europe.

Based on extensive interviews and archival research, "Hans van Dijk: 5000 Names" considers his legacy as it looks at the major artists he championed and the scene they inhabited during the 1990s. The exhibition comprises three main elements. A vast collection of documentary material, including catalogues, personal correspondence, and photographs, records in depth van Dijk's life and work within an emergent art scene. Complementing these documents are works by Chinese artists—some now iconic, others nearly forgotten—with whom van Dijk worked closely, including Yan Lei, Zhou Tiehai, Zhang Peili, Ai Weiwei, Ding Yi, Duan Jianyu, Wang Xingwei, Mai Zhixiong, Liu Anping, Zhang Enli, Zheng Guogu, and many others. Van Dijk's contribution to the introduction of photography as contemporary art into the Chinese conversation will also be treated in a special section curated by Zhang Li, and several historical works by figures including Li Yongbin and the New Analysts (Xin Kedu), originally included in van Dijk's exhibitions, will be re-created. The final element is van Dijk's life's work: a meticulously organized, staggeringly comprehensive archive of over 5000 Chinese artists born between 1880 and 1980, documenting the history of the country's modern and contemporary art from the 1920s onward. Together, these documents and works offer an immersive look into the world of a critical figure whose legacy has only just begun to be unpacked, reopening not only the conversation surrounding van Dijk and his manifold contributions to Chinese contemporary art, but the history of the 1990s in Chinese art and culture more broadly.

Hans van Dijk: 5000 Names is an exhibition in two parts curated by Marianne Brouwer, and developed with Philip Tinari (Director, UCCA), Defne Ayas (Director, Witte de With), Venus Lau (Curator, UCCA), and Samuel Saelemakers (Associate Curator, Witte de With). The exhibition is co-commissioned by Ullens Center for Contemporary Art, Beijing (2014.5.24 – 2014.8.10) and Witte de With Center for Contemporary Art, Rotterdam (2014.9.4 – 2015.1.4).
---
More Pictures:
DING Yi
ZHAO Bandi
Dial 62761232 (Express Delivery Exhibition)
UCCA
Geng Jianyi
Related Texts:
Works Exhibited :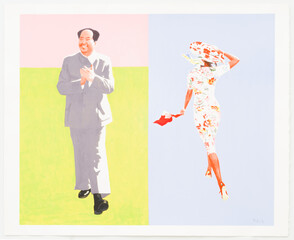 Related Publications:
Links:
---
上海香格纳文化艺术品有限公司
办公地址:上海市徐汇区西岸龙腾大道2555号10号楼
© Copyright
ShanghART Gallery
1996-2022

沪公网安备 31010402001234号