Art of Living - Breaking Down the Wall
Group Exhibition Jing An Kerry Center, Shanghai
Date: 06.13, 2014 - 06.30, 2014
Artists:
DING Yi 丁乙
|
JIANG Pengyi 蒋鹏奕
|
SHI Qing 石青
|
ZHANG Enli 张恩利
|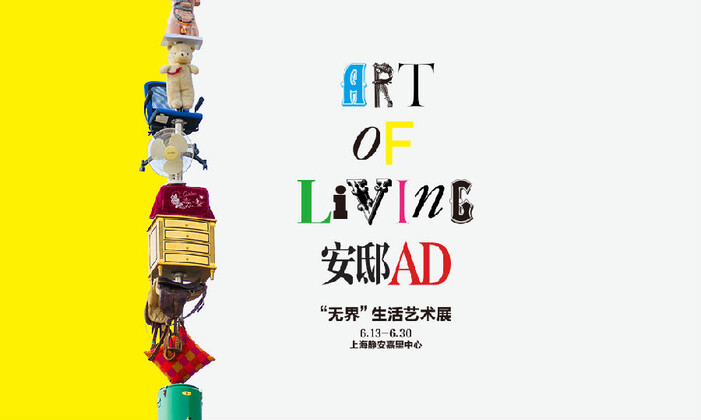 Station Introduction

Station 1: UTOPIA GROUND
Shi Qing's monumental installation, All thatis Solid Melts into Air, sets the base for Utopia Ground. Shi's surrealinstallation brings the outdoors inside with a landscape made of fake and realfoliage, interspersed with signs of utopian movements of the 20th Century,strange wooden structures, as well as original artworks by Zhang Enli and Zhou Xiaohu. This land-art-scape is further populated by lifestyle products that combinethe distinct experiences of art and life.

Station 2:BREAKING THE WALL
Referencing China's tabula rasa mode of urbanization as well as the popular soybean treatthe installation/performance work, Tofu, by the art collective Polit-Sheer-Form forms the architectural structure tothis station. The rectangular, white, sheetrock cube, like a block of silkenTofu, has been hacked with axes to reveal the contents inside. Peering through the cracks in the wall or upon entering the confines of this demolition site one can find art works by Ding Yi, Fang Lu, Heidi Voet, Jiang Pengyi and Michael Lin set amidst designer furniture and other items. Through Ding Yi's customized carpet on the wall, Fang Lu's deranged videos, Heidi Voet's origami-like art,Jiang Pengyi's photograph and Michael Lin's wallpaper on the floor, the familiarity of the real world outside comes back as fantasy, construed togetherin a luxurious yet surrealistic domestic space.

Station 3: THE INFINITE
The Infinite is a pop-up,layer-structured space is covered in pure white yarn and constructed with alight and flexible scaffold instead of traditional building materials.Contained within this space, and acting as a support pillar, is Ouyang Chun's epic installation work, Infinity Column,along with AD China's image exhibition presenting worldwide editorial conceptof stylish "the most beautiful homes in the world". This temporary edificealludes to the changes in our fast paced life and continual demand for solidand exciting design solutions. In a metaphorical way, the station encouragesone to imagine the infinite creative possibilities for a better life.
---
---
上海香格纳文化艺术品有限公司
办公地址:上海市徐汇区西岸龙腾大道2555号10号楼
© Copyright
ShanghART Gallery
1996-2019

沪公网安备 31010402001234号