do it Moscow
Group Exhibition Garage Museum of Contemporary Art, Moscow, Russia
Date: 05.01, 2014 - 06.06, 2014
Artists:
XU Zhen 徐震
|
XU ZHEN® 徐震®
|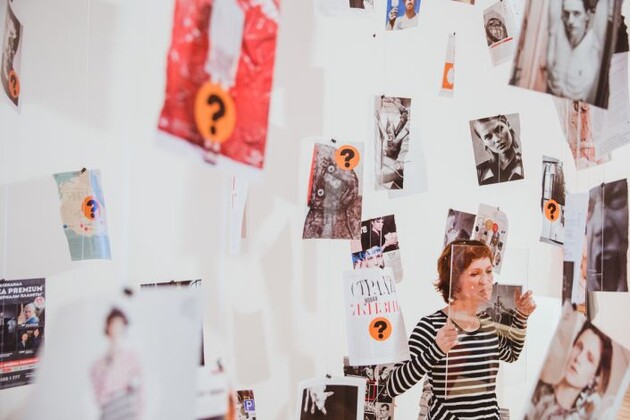 http://garageccc.com/en/event/459
do it Moscow

May 1 - July 6, 2014

TAKE PART IN A GLOBAL ART PROJECT! #doitmoscow

Venues: do it Moscow will take place in Garage Pavilion as well as Gorky Park, Krymskaya Embankment, PUMA Social Club and other locations across Moscow.

Conceived by curator Hans Ulrich Obrist, do it began in Paris in 1993 as a result of a discussion with the artists Christian Boltanski and Bertrand Lavier about how to make exhibitions more flexible and open-ended. The conversation developed into the question of whether a show could be made from "scores" or written instructions by artists, which could then be openly interpreted every time they were presented. How would an artist's work be transformed if others made the artwork?

At the beginning, Obrist invited twelve artists to contribute instructions that were translated into nine different languages and circulated internationally as a book. Soon afterwards, do it exhibitions were being realized all over the world, from Reykjavik to Siena, Bangkok to Mexico City. New instructions were added for each incarnation, so that today nearly 400 artists have contributed instructions to the ever-evolving project, offering infinite creative possibilities for the participants who enact them. Twenty years after its conception, do it has become the longest-running exhibition ever.

For Garage, staging do it Moscow creates new opportunities for involvement by and with local communities. The generative and democratic nature of the project enables the institution to continue exploring ways to broaden access and participation in contemporary art, which is central to Garage's mission.

Intensive collaborative work started in January with various communities across Moscow, resulting in more than 80 instructions being interpreted by people who live and work in the city. These include the publics that visit the Center and the park, students in art, design and performance, fashion designers, fashion-store employees, staff of museums and art institutions across the city, young and established Russian artists as well as Garage staff and Gorky Park administration.

Specifically for do it Moscow — which is to date the largest incarnation of the project — Athens-based artist and architect Andreas Angelidakis has created a unique environment to house the instructions and their enactments at Garage. Bringing together spaces for actions as well as contemplation, the dynamic and playful exhibition design features a dramatic work by artist Daniel Buren realized based on the artist's instruction, sent especially for realization in Moscow.

Visitors will find "do its" everywhere at Garage, whether in the form of "fortune cookies" in the cafe, a performance at the reception desk, a workshop in the lobby, or a noisy bazaar on the lawn. On leaving Garage, one can still be part of do it Moscow by participating in events such as the "planetary dance" procession staged at the Krymskaya Embankment based on instructions by renowned choreographer and dancer Anna Halprin, or by responding to the challenging task set by Japanese artist Shimabuku to "make an animal smile" or one can dance with a large piece of chalk at the Park of Arts "Muzeon", as instructed by American artist Joan Jonas.

Garage is also pleased to announce that PUMA Social Club has become an official parallel venue of do it Moscow. Located in Gorky Park, it offers an alternative recreation space, a place for sport contests, exhibitions, film screenings, and many other entertaining activities. Within the exhibition do it Moscow, PUMA Social Club will present street performances, installations and interactive objects as interpretations of various artists' instructions.

Do it Moscow also includes exclusive new instructions by Russian artists such as Yuri Albert, Nikita Alexeev, Valia Fetisov, Oleg Kulik, Andrei Monastyrski, Anatoly Osmolovsky, Alexander Petrelli, Sergey Sitar, Electroboutique and Konstantin Zvezdochetov.

A number of the artists' instructions are performed by other artists or theater actors within the main exhibition space. These live events occur at different times throughout the period of the show and have no fixed location, popping up alongside the more permanent enactments. For an updated program, please visit www.garageccc.com

Participants:

Artists, architects, composers, writers, choreographers:

Etel Adnan, Pawel Althamer, Carl Andre, Uri Aran, Robert Ashley, Tarek Atoui, Yto Barrada, Jérôme Bel, Bernadette Corporation, Gerry Bibby, Christian Boltanski, Louise Bourgeois, Geta Bratescu, Joan Brossa, Daniel Buren, Cao Fei, John Chamberlain, Lygia Clark, Amy E. Cohen, Meg Cranston, Minerva Cuevas, Tacita Dean, Liu Ding, Elmgreen & Dragset, Tracey Emin, Claire Fontaine, William Forsythe, Hreinn Fridfinnsson, Yona Friedman, Simryn Gill, Felix Gonzalez-Torres, Konstantin Grcic, Marie-Ange Guilleminot, Shilpa Gupta, Anna Halprin, NS Harsha, Federico Herrero, Roger Hiorns, Shere Hite, Pierre Huyghe, Joan Jonas, Allan Kaprow, Hassan Khan, Alison Knowles, Aaron Koblin, Július Koller, Surasi Kusolwong, Suzanne Lacy, David Lamelas, Adriana Lara, Xavier Le Roy, Sol LeWitt, Lucy Lippard, Aníbal López, Lee Lozano, Mark Manders, Paul McCarthy, Cildo Meireles, Jonas Mekas, Annette Messager, Olaf Metzel, Deimantas Narkevičius, Bruce Nauman, Ernesto Neto, Rivane Neuenschwander, Albert Oehlen, Füsun Onur, Fernando Ortega, Charlemagne Palestine, Lygia Pape, Nicolás Paris, Amalia Pica, Adrian Piper, Marjetica Potrč, Raqs Media Collective, Tobias Rehberger, Pedro Reyes, Anri Sala, Dimitar Sasselov, Tino Sehgal, Kazuyo Sejima, Rupert Sheldrake, Shimabuku, Alexandre Singh, Andreas Slominski, Ryan Trecartin, Francisco J. Varela, Hannah Weinberger, Lawrence Weiner, Erwin Wurm, Cerith Wyn Evans, Xu Zhen.

New instructions and interpretations by:

Yuri Albert, Nikita Alexeev, Alexei Buldakov, Electroboutique, Tim Etchells, Aleksandr Fain, Hu Fang, Valia Fetisov, Polina Kanis, Irina Korina, Elena Kovylina, Olya Kroytor, Yuri Kviatovski, Oleg Kulik, Anastasia Kuzmina, Ilya Leutin, Raimundas Malašauskas, Andrei Monastyrski, Liza Morozova, Maxim Nazarov, Anatoly Osmolovsky, Alexandra Paperno, Sasha Pas, Irina Petrakova, Alexander Petrelli, Lisa Plavinsky, Ekaterina Rousskikh, Sergey Sitar, Haim Sokol, Natalia Vitsina, Konstantin Zvezdochetov.


Participating communities:

Artguide magazine, Institute BAZA, Business school "RMA", Culture PR-agency "Komanda+1", Ekaterina Cultural Foundation, Gorky Park, Garage Teens Team, Hair salon "Birdie", British Higher School Of Art & Design (various programmes), Jewish Museum and Tolerance Center (exhibition department), Moscow 24 TV, Moscow International Biennale For Young Art, Moscow Museum of Modern Art (MMoMA), Moscow Art Lyceum, Moscow City Museum, The Park of Arts "Muzeon", Late Night Performance School 'PYRFYR', Performance Art Studio, PUMA Social club, The Pushkin State Museum of Fine Arts, Strelka Institute, Drama school MHAT, Institute of Contemporary Art, Moscow, Center for Dance and Performance "TSEKH", Theater Ballet Moscow, UK Style store, instructors of the World Class Fitness Chain, online media www.w-o-s.ru.




do it Moscow is developed by Garage Museum of Contemporary Art in collaboration with Independent Curators International (ICI) New York. Curated by SnejanaKrasteva and Anastasia Mityushina. Architect: Andreas Angelidakis

do it is an exhibition conceived and curated by Hans Ulrich Obrist, and organized by Independent Curators International (ICI), New York. do it and the accompanying publication, do it: the compendium, were made possible, in part, by grants from the Elizabeth Firestone Graham Foundation, the Robert Sterling Clark Foundation, and with generous support from Project Perpetual, ICI's International Forum, and ICI's Board of Trustees.
---
Links:
---
上海香格纳文化艺术品有限公司
办公地址:上海市徐汇区西岸龙腾大道2555号10号楼
© Copyright
ShanghART Gallery
1996-2022

沪公网安备 31010402001234号