ZHU JIA
Solo Exhibition FAB-UNION SPACE, West Bund Culture and Art Pilot Zone, Shanghai, No. 2555-11, Longteng Avenue, Xuhui District
Date: 11.21, 2015 - 01.18, 2016
Artists:
ZHU Jia 朱加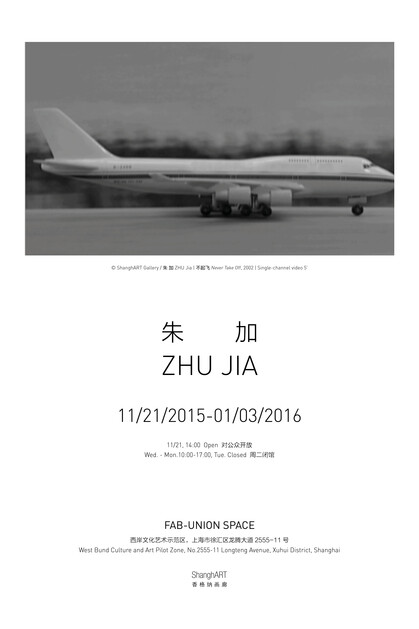 Period: 11/21/2015-01/03/2016
Time: 10:00-17:00, Tue. Closed
Address: FAB-UNION SPACE, West Bund Culture and Art Pilot Zone, No.2555-11 Longteng Avenue, Xuhui District, Shanghai
ShanghART Gallery is pleased to present "ZHU JIA" from 21st of November 2015 to 3rd of January 2015 with collaboration of FAB-UNION SPACE in West Bund Culture and Art Pilot Zone. According to the novel interior design and structure of the space, the exhibition showcases ZHU Jia's representative video works and concept art project.


As a pioneer of the practice of video art in China, Zhu Jia always tries to capture ordinary scenes through distinctive methods of practice. In his 1994 piece "Forever", which has participated in several important exhibitions, Zhu attached a camera to the left wheel of a bicycle. The artist rode this bicycle over 10km around the city of Beijing, catching images of daily life through a truly unique perspective.

Zhu Jia is conceptually probing unique visual experiences beyond regular ones. The exhibition also brings "The Face of Facebook". The artist has invited over 50 friends from different professions to contribute a portrait of Mark Zuckerberg in their own artistic style, or in completely novel representations. Without any signatures on these artworks, it will be difficult to identify the creator of the artwork. As Zhu has once commented, "This is not a question of artistic creation per se, but it delves into the question of power, politics, art rules, as well as art markets.

Zhu Jia, born in 1963, Beijing. Graduated from China Central Academy of Fine Arts in 1988. Works and lives in Beijing.
---
More Pictures:
Works Exhibited :
---
上海香格纳文化艺术品有限公司
办公地址:上海市徐汇区西岸龙腾大道2555号10号楼
© Copyright
ShanghART Gallery
1996-2019

沪公网安备 31010402001234号