YANG FUDONG: NEW WOMEN
2014-05-09 14:18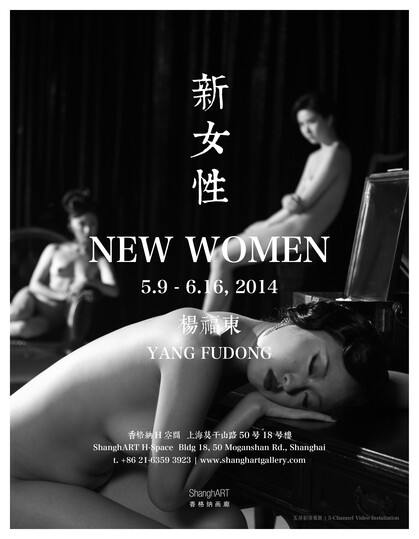 媒体下载:点击下载
YANG FUDONG: NEW WOMEN (5-channel video installation)
Opening: May 9, 2014, 17:00 - 19:00
Duration: May 10 – Jun 16, 2014, Daily 10:00 -18:00
Venue: ShanghART H-Space, Building 18, No.50 Moganshan Road, Putuo District, Shanghai
Contact: info@shanghartgallery.com | www.shanghartgallery.com
ShanghART is so pleased to present Yang Fudong's solo exhibition NEW WOMEN in ShanghART H-Space from May 9th to Jun 16th, 2014.
New Women, a five-channel video installation, is Yang Fudong's most recent video work. New Women was commissioned by TIFF (Toronto International Film Festival) where it was presented for the first time in 2013 to high acclaim. New Women will also be shown in Art Unlimited/Art Basel this summer.
New Women is inspired by the decadent atmosphere of Shanghai in the 1920s and 1930s, a period that has been captured in some of the best-loved Chinese films today and remains influential among Chinese artists in general. 1930s movies were mostly storytelling, focusing on the dark side of the society and the fate of small potatoes. The same goes for contemporary movies, but they produce now different types of industrial image products, and all for the purpose to consume our feelings. Generally, artists are not exactly the same; they are more of text authors and philosophers, and they don't deliberately create entertainment products. The work New Women examines and suggests how women – and, ultimately, the ideas about women – have embodied China's search for modernity over the past hundred years. It is a tribute to nascent Chinese cinema, also a depiction of the ideal woman image in each person's heart which implies an idealistic state.
In the end of 2013, Yang Fudong's New Women was nominated as "Best Artwork of the Year Award" of LU XUN Award 2013.
Yang Fudong is an artist who lives and works in Shanghai. He was born in Beijing, 1971 and graduated from the China Academy of Art, Hangzhou, 1995. Yang is one of China's best known contemporary artists, having gained a major international reputation for his films and video installations, which have been shown regularly as part of major international survey exhibitions and one-person gallery shows across the globe. Yang Fudong has had more than 60 solo shows at most acclaimed institutions and galleries during the past years besides other 300 group exhibitions in the world.
Yang Fudong has participated in prestigious international art events including: La Biennale de Lyon, France (2013); Sharjah Biennial, UAE (2013); The First Kyiv International Biennial of Contemporary, Ukraine (2012); Moving Image In China : 1988-2011, Minsheng Art Museum, Shanghai (2011); 17th Biennale of Sydney (2010); Aichi Triennial 2010, Japan(2010); CAFA Art Museum, Beijing (2010); The National Art Museum of China, Beijing(2010); 8th Shanghai Biennale, Shanghai(2010); The 52nd Venice Biennale, Italy (2007); The 5th Asia Pacific Triennial of Contemporary Art, Queensland Art Gallery, Australia (2006); The 1st Moscow Biennale of Contemporary Art, Russia (2005); The 5th Shanghai Biennale, Shanghai (2004);Museum of Modern Art (MoMA), USA (2004); Centre Pompidou, France(2003); The 50th International Art Exhibition Venice Biennale, Italy (2003); Documenta 11, Kassel, Germany(2002); 4th Shanghai Biennale (2002); Documenta, Kassel (2002); Istanbul Biennale (2001) etc.
Yang Fudong had one person exhibitions at most acclaimed institutions such as Kunsthalle Zurich, Switzerland(2013); Berkeley Art Museum, San Francisco, USA (2013); Vancouver Art Gallery, Canada (2012);Marian Goodman Gallery, NY (2012); OCAT, Shanghai (2012); Espoo Museum of Modern Art, Finland (2011); Parasol Unit Foundation London, U.K. (2011); Sherman Contemporary Art Foundation, Sydney, Australia (2010); Kunsthaus Baselland, Basel, Switzerland (2010); National Museum of Contemporary Art, Athens, Greece (2010); Zendai Museum of Modern Art, Shanghai (2009); Hara Museum, Tokyo, Japan (2009); Asia Society and Museum, New York, U.S.A.(2009); GL STRAND, Copenhagen, Denmark (2008); Castello di Rivoli Museo d'arte contemporanea, Torino, Italy (2005); Kunsthalle Wien, Austria (2005); Stedelijk Museum, Amsterdam, Netherlands (2005); The Renaissance Society, Chicago, U.S.A.(2004) etc.
----------------------------------------------------------------------------------------------------------
New Women, 2013, 5 channel video installation, B&W film transferred to HD
Commissioned by Toronto International Film Festival (TIFF) 2013
-----
Related Works: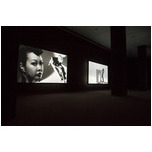 YANG FUDONG 杨福东
2013
Multi-channel video
35mm B&W film transferred to HD, 8-11 mins
11 minutes 7 seconds
Edition of 6
YFD_0743
Related Artists:
YANG FUDONG 杨福东
Related Exhibitions: