LIANG Shaoji: Back to Origin
2020-09-25 14:38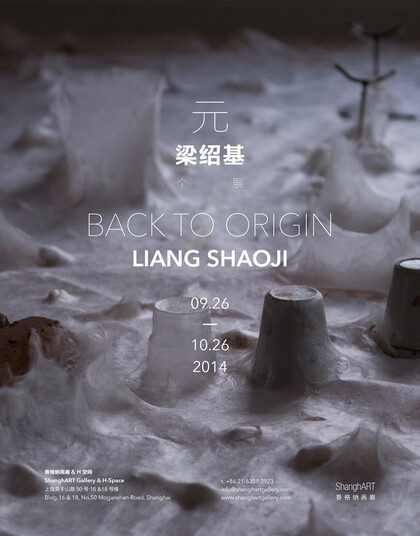 Opening:17:00-19:00, Fri, Sept. 26, 2014
Duration: Sept 27– Oct 26, 2014, Daily 10:00 -18:00
Venue: ShanghART main space & ShanghART H-Space, Building 16 & 18, No.50 Moganshan Road, Putuo District, Shanghai
Contact: info@shanghartgallery.com| www.shanghartgallery.com

ShanghART is so pleased to present LIANG Shaoji's solo exhibition in ShanghART main space& H-Space from Sept 27th to Oct 26st, 2014.

Lives Deep in the mountainous area of Central Zhejiang Province, LIANG Shaoji takes the entire life cycle of the silkworm as the vehicle while the interaction with nature as the power. In the past 25 years, he explored with great concentration on the frontier between art and science, sculpture and installation, performance and multimedia, approaching the ultimate inquiry of both time and life.

On September 26, 2014, Shanghart Gallery will unveil the new face of the "Nature serious" created in the past 5 years by LIANG Shaoji, who is honored as "The hermit of Chinese contemporary art". This is a selection of artworks shuttles between heaven and hell that incarnated the simplicity and the strengthen, dynamic and static, hardness and softness while taking on the balance between "stillness" and "obscurity".

The exhibition is entitled as "Back to Origin"(Chinese title"Yuan"), which means original, basic, genetic, element. In Chinese ancient rhetoric, "Yuan" is interchangeable with "Yuan(garden)", which embodies nirvana. As has been revealed , the artist intended to open a wider space more abstract, more rational and even more pure. In the natural way of "homecoming" and "estimate", he regards the silkworm as "oneness"of "yuan" and said: "silk for me, is end of both time and life. It reveals the long process as it lines out the 'one' which is both infinitely vast and infinitely trivial."

The whole exhibition showcases both quiet and lively ambiances, which will be mounted simultaneously in H-space and Building 16 of Shanghart Gallery. An enormous mixed-media installation "Destiny" uncovers at first sight a hell-liked scenes: Huge iron chains drilling in the swampy mud, confronting with whom is the little lives and the struggling winder silk. The black gold leaking from the heavy chains forms a strong contrast with the defused silver silk, appeals the meditation of audience. Stage "Zen"'s real meaning, the installation works "A Move in Silence", Sound of Heart", "Snow Cover", "Planar Tunnel", "Stele" and "Mending Sky"(video) have a diametrically opposite context to "Destiny", "Pitfall" and "Nowhere to Hide".

Non-pointer clock, soundless Qing (a Chinese instrument), unlettered stele, translucent silk planar, broken blue sky, silk porcelain on the snow…The whole static world as though been restarted during the hatch of silk. The "silk cloud" is the metaphorical element several used in LIANG Shaoji's works, which has been turned into "frozen snow" and "home-therapy"in the oncoming exhibition. What compelling the most is the field that created by the combination of silk and crackled porcelain covered under the snow, this kind of silence is the consequence of "Being-there" enlightened by "Cessation and insight" as well as "The utmost degree void".

"Silk is the apostle of light, a laser instrument of life, and a lightsome mysterious shock wave that summons redemption and troughs every phenomenon." said LIANG Shaoji.

LIANG Shaoji was born in Shanghai in 1945. He graduated from the Zhejiang Fine Arts School  in 1965 and studied at the Varbanov Institute of Tapestry in the Zhejiang Academy of Art. Today he resides and works in Tiantai Mountain, Linhai. LIANG Shaoji has exhibited widely in international Biennales and Triennials, such as Venice (1999), Istanbul (1999), Lyon (2000) and Shanghai Biennales (2000 and 2006) etc. Recent exhibitions include: Questioning Heaven, Liang Shaoji Solo Exhibition, Gao Magee Art Gallery, Madrid, Spain (2012);Liang Shaoji Solo Exhibition, Prince Claus Fund, Amsterdam, the Netherlands (2009); An Infinitely Fine Line-Liang Shaoji Solo Exhibition, Zendai MOMA, Shanghai (2009); CLOUD, ShanghART H-Space, Shanghai (2007); Art of Change, Hayward Gallery, London, U.K. (2012); The 55th Venice Biennale Parallel Exhibition, Independent Chinese Art Exhibition: Voice of the Unseen, Venice, Italy (2013); Lost Way: Time, Space, Tapestry, Power Station of Art, Shanghai (2014) etc. The prizes he was presented include Chinese Contemporary Art Awards (CCAA) in 2002 and Prince Claus Awards in 2009.
-----
Related Artists:
LIANG SHAOJI 梁绍基
Related Exhibitions:
上海香格纳文化艺术品有限公司
办公地址:上海市徐汇区西岸龙腾大道2555号10号楼
© Copyright
ShanghART Gallery
1996-2019

沪公网安备 31010402001234号