WuYiming Recent Works
2015-05-29 15:42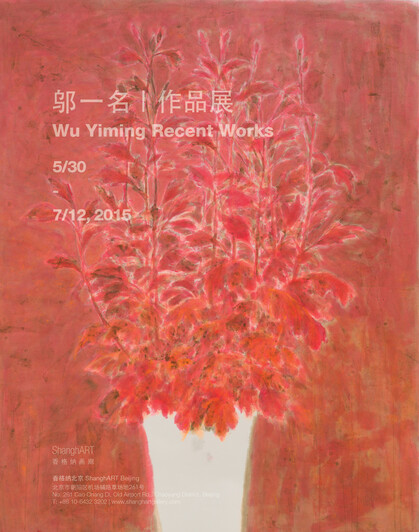 媒体下载:点击下载
Preview: 16:00-18:00, May 30th, 2015
Duration: 11:00-18:00, May 31th – July 12, 2015 (closes on Mondays)
Venue: ShanghART Beijing, 261 Cao Chang Di, Old Airport Rd., Chaoyang District, Beijing, China
Contact: infobj@shanghartgallery.com | www.shanghartgallery.com


ShanghART Beijing is pleased to present WU Yiming's recent works. It is WU's first solo exhibition at ShanghART Beijing showing his latest ink on paper, from May 31th – July 12th.

It could be seen from WU's early works that he has been profoundly influenced by western art. However, lately, Wu decided to welcome a breath of fresh air to his art practice. He seized a new direction while stating out a clear gesture for his creation, which has led to WU's unique interpretation of the space structure and the modeling involved in his ink paintings. In order to present in a direct way without any intentional uncovering or hide, WU has managed to get rid of a sense of complexity and to illustrate a simpler painting structure. Stereoscopic vision is removed, while the implied essence is revealed by layers. His individualised spirit, thus, is able to get presented. It is what matters most.

WU believes that what has been hidden behind are waiting to be unveiled by artists during creation process. And it might gradually come to light, even though the time and the circumstance could not be predicted. The theme of creation may not be of importance for the artist. Instead, what normally appears in his artworks mainly refers to the pot plants in the studio and the daily streetscape. That is to say that WU cares more about how to find out the uncertain or alienated spirits among the routine views. This could actually be seen as a fun game for the artist. The dots, which he gathers and integrates, have helped to create his self-contained spiritual world.

WU Yiming, born in 1966 and graduated from the Fine Arts Department of the East China Normal University in 1992, now lives and works in Shanghai. His recent exhibitions include: Wu Yiming Solo Exhibition, Mind Set Art Centre, Taipei (2014); The Other Side of Time-WU Yingming Solo Exhibition, ShanghART Gallery, Shanghai (2012); Growing, The 15th Anniversary Exhibition of ShanghART Gallery, Shanghai World Financial Centre, Shanghai (2011); Portrait, ShanghART Gallery (Main Space), Shanghai (2010), Shanghai; Another Scene, ShanghART Gallery H Space, Shanghai (2009); The World of Other's, A Contemporary Art Exhibition, Museum of Contemporary Art, Shanghai (2008).
-----
Related Artists:
WU YIMING 邬一名
Related Exhibitions:
---
上海香格纳文化艺术品有限公司
办公地址:上海市徐汇区西岸龙腾大道2555号10号楼
© Copyright
ShanghART Gallery
1996-2022

沪公网安备 31010402001234号