Jiang Pengyi Solo Show: Grace
2016-10-17 16:16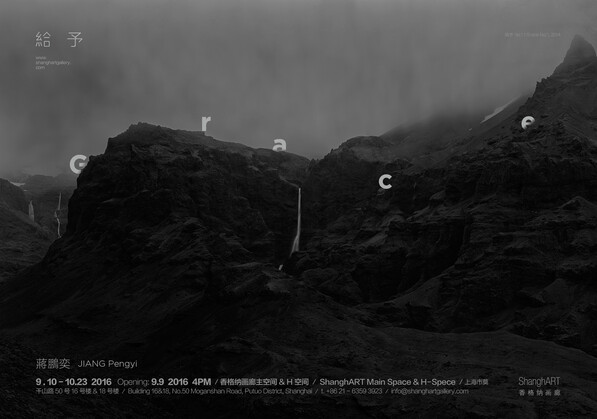 媒体下载:点击下载
Opening: 16:00P-19:00, Sept.9, 2016
Duration: Sept.10 - Oct.23, 2016
Location: ShanghART Gallery Main & H-Space, Bldg 16 & 18, 50 Moganshan Road, Shanghai
Contact: press@shanghartgallery.com | www.shanghartgallery.com

ShanghART Gallery is pleased to present JIANG Pengyi's solo exhibition: Grace, from 9th September to 23rd October, 2016. It's JIANG Pengyi's third solo exhibition in ShanghART Gallery. Two series of works Trace and Grace are showcased in Main and H Space respectively. In conjunction with the exhibition of the same title, Grace, a large-scale gelatin silver photograph series in black and white, marks the artist's endeavours in returning to the traditional darkroom as well as to the antique photo developing technology. Another new Polaroid series Trace sized in 8''×10'' breaks the limitation of the shooting mode of photography, which is a continuous practice formed under the artist's conception of light and imagery.


Grace, an array of large-scale gelatin works delicately records the ineffable magnificent landscapes that have invariably evolved since the origin of the earth. This series is captured from the Arctic Circle and various countries in the Southern Hemisphere over a span of three years. The artist's darkroom experimental series Trace captures the instant marks which are imprinted by hands on the photosensitive medium. While the audience marvel at the intricate and exquisite tone of Grace, the other abstract series, Trace impresses us with its simplicity, lightness and swiftness simultaneously. Throughout years of persistent exploration, self-reflection and self-denial, JIANG's works are created by experiencing both long-term contemplation and inspirational improvisation that present the broader, richer and in-depth momentum of his works .


Born in Yuanjiang, Hunan Province in 1977, JIANG Pengyi graduated from China Academy of Art, currently lives and works in Beijing. His creation articulates a genre of surreal spectacle and delicate narration of the scene primarily with photography and video, which reveals the consciousness and the ephemera of individuals. Recent exhibitions include: JIANG Pengyi: Intimacy, ShanghART Singapore, Singapore; Jiang Pengyi, ShanghART H-Space, Shanghai; Glimpses, Jiang Pengyi Solo Exhibition, Klein Sun Gallery, New York, U.S.A.; Three Shadows First Experimental Image Open Exhibition, Three Shadow, Beijing (2014); West Bund 2013:A Biennial of Architecture and Contemporary Art, Waterfront of Xuhui District, Shanghai (2013); ON|OFF, Ullens Center for Contemporary Art (UCCA), Beijing (2013); No Exit-Urban Space, Helsinki Photography Biennial 2012, Helsinki, Finland (2012); Be Nature Be Yourself, Frac des pays la Loire Fonds Regional d'Art Contemporain, Nante, France (2011), and etc.
-----
Related Artists:
JIANG PENGYI 蒋鹏奕
Related Exhibitions:
---
上海香格纳文化艺术品有限公司
办公地址:上海市徐汇区西岸龙腾大道2555号10号楼
© Copyright
ShanghART Gallery
1996-2022

沪公网安备 31010402001234号