LIU Cong: The Long Now
2023-03-01 14:39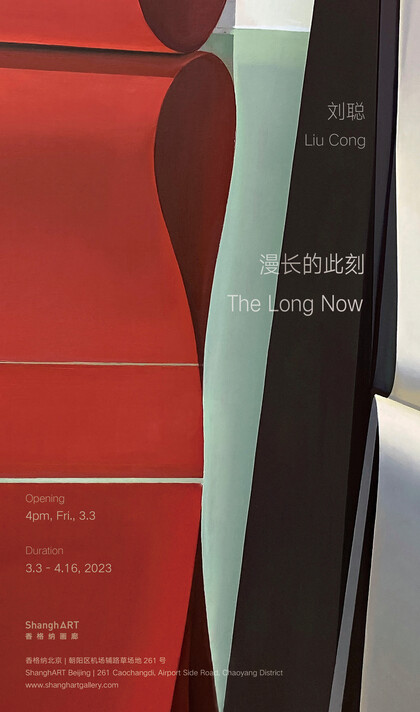 媒体下载:点击下载
Opening: 2023/03/03, Fri. 16:00
Duration: 2023/03/03 – 04/16
Location: ShanghART Beijing, 261 Caochangdi, Airport Side Road, Chaoyang District, Beijing, China

Opening on 3 March 2023, ShanghART Beijing is pleased to present an exhibition of works by artist Liu Cong titled "The Long Now". This is Liu's first solo show at ShanghART Gallery, featuring new paintings he has recently created.

In this exhibition, Liu Cong continues his long-standing exploration of "painting" as a mode of expression. After removing different means of expression such as pictorial depiction, narrative, and knowledge production, Liu chooses to use a variety of ready-mades as "models." While emphasising the presence of the body, through the artificial "image-making" of these "objects" on canvas, along with detached reflection, he releases pictures with spiritual properties and gives them a perceptual tension. In describing the progressive relationships of "reality" and "sense of reality," as well as "sensibility" to which the "sense of reality" extends and points, a metaphysical experience of the "atmosphere of existence" is achieved in the context of "human" that revolves around human emotions, states of mind, limitations, and the quest for transcendence.


About the Artist

Liu Cong, born in 1987 in Shandong Province, now lives and works in Beijing. In 2010, he graduated from the China Central Academy of Fine Arts, Oil Painting Department. Recent exhibitions include: Liu Cong: The Long Now, ShanghART Beijing (2023); Semi-automatic Mode 3: Liu Cong & Xiao Wucong, ShanghART Beijing (2022); Liu Cong: Double, Hunsand Space, Beijing (2021); Liu Cong: Resetting, Mocube, Beijing (2019); Liu Cong: Time in Reflection, NUOART, Beijing (2018); Evidence - A New State of Art, Castel Sant'Elmo, Naples, Italy (2018); Density Talisman Array, Ying Space, Beijing (2018), etc.
-----
Related Artists:
LIU CONG 刘聪
Related Exhibitions:
---
上海香格纳文化艺术品有限公司
办公地址:上海市徐汇区西岸龙腾大道2555号10号楼
© Copyright
ShanghART Gallery
1996-2022

沪公网安备 31010402001234号