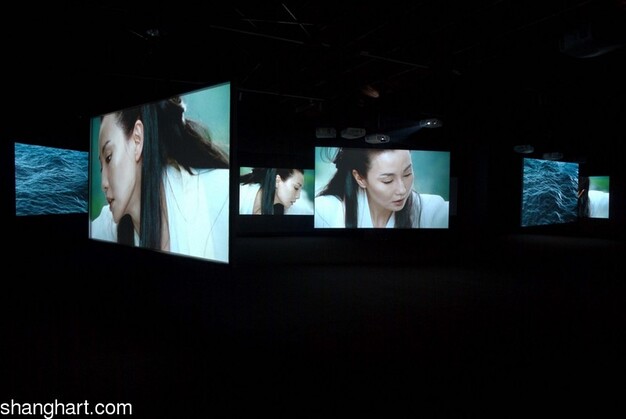 Introduction
Isaac Julien is as equally acclaimed for his fluent, arresting films as his vibrant and inventive gallery installations.
His latest project Ten Thousand Waves (2010) is his most ambitious to date with the nine-screen installation forming a dynamic structure which choreographs the viewers experience of the multiple narratives. Julien deploys the visual and aural textures of the film to elicit a visceral response from the viewer, submerging them in the world of his making. Shot on location in China this epic work poetically weaves together stories linking the nation's ancient past and present. Through an elaborate architectural installation the work explores the movement of people across countries and continents and meditates on unfinished journeys.
Conceived and made over four years, Ten Thousand Waves sees Julien collaborating with some of China's leading artistic voices, including Yang Fudong. Filmed in the ravishing and remote Guangxi province and at the famous Shanghai Film Studios and various sites around Shanghai, Ten Thousand Waves combines fact, fiction and film essay genres against a background of Chinese history, legend and landscape to create a meditation on global human migrations. Through formal experimentation and a series of unique collaborations, Julien seeks to engage with Chinese culture through contemporary events, ancient myths and artistic practice.
上海香格纳文化艺术品有限公司
办公地址:上海市徐汇区西岸龙腾大道2555号10号楼
© Copyright
ShanghART Gallery
1996-2022

沪公网安备 31010402001234号