Liang Shaoji Solo: Silk Dream
Solo Exhibition Hermes Maison in Shanghai, Shanghai, 4th Floor
Date: 12.04, 2015 - 12.27, 2015
Artists:
LIANG Shaoji 梁绍基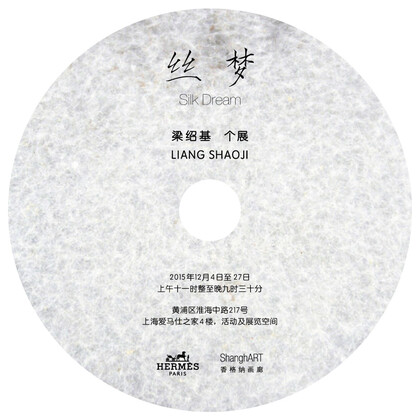 Liang Shaoji Solo: Silk Dream

Liang Shaoji solo exhibition Silk Dream is specially presented at Hermes Maison in Shanghai from December 4 to 27, 2015. The exhibition illustrates the language of silkworms in a philosophical way that Liang Shaoji has applied in his artistic practice in terms of art and science, sculpture and installation, performance and multimedia.

The space is fulfilled with a sense of stillness and movement, gentleness and strength while generating the warmth of craftsmanship, the flow of time and space, the origin of eigenlich time and nature. Nature Series No. 106, composed of 24 silk mirrors, spread gently on the ground. These pieces give flashes of light and bring a cloudy and well-proportioned atmosphere. When audience moves around, the lights and shades of the mirror keep shifting, like glittering stars. Immersed in the space where human and nature interact, the universe starts to work. Can Chanchan poetically depicts the seasonal changes of silkworm's world. At the beginning, thousands of silkworms cluster together. When the silk gets thicker, certain patterns gradually emerge. The shape, density and patterns of silk vary under different temperature and humidity, while the wave of water evolves in different seasons. Eventually, when the spinning is done, cocoons are thus buried under the silk. And the hovering butterflies resemble the blossoms in winter. Silk thread, as a sewing material in daily life, is commonly seen in the pinhole of a sewing machine. However, reversely in the Silk Dress, the silk spun by silkworms wraps the sewing machine. And the three-dimensional dress beside, is directly spun and created by silkworms, symbolizing a natural sculpture. The natural material involved here conveys certain warmth that naturalizes and humanizes the industrial technology. While the flashing shadows are overlapped and shuttling around, the traditional weaving machine narrates a dreamy scene in the Barcarolle: the shuttles come back and forth, triggering various riffles on the threads, which seems like a boat sailing on the sea and heading for its destination.

By presenting the world of silkworms, Liang Shaoji has strengthened and illustrated the reality of life process and the abstraction of life essence in front of the audience. It is the initiate of his gentle and philosophical thinking. Silkworm exists as a life form. Liang's art creating way which originates from nature has been shown as a particular structure with his sensation and interpretation, unveiling and depicting "die existenz" by metaphors.
---
More Pictures:
Related Texts:
Works Exhibited :
---
上海香格纳文化艺术品有限公司
办公地址:上海市徐汇区西岸龙腾大道2555号10号楼
© Copyright
ShanghART Gallery
1996-2019

沪公网安备 31010402001234号