Liang Shaoji: As If
Solo Exhibition M Woods, Beijing
Date: 09.15, 2018 - 11.11, 2018
Artists:
LIANG Shaoji 梁绍基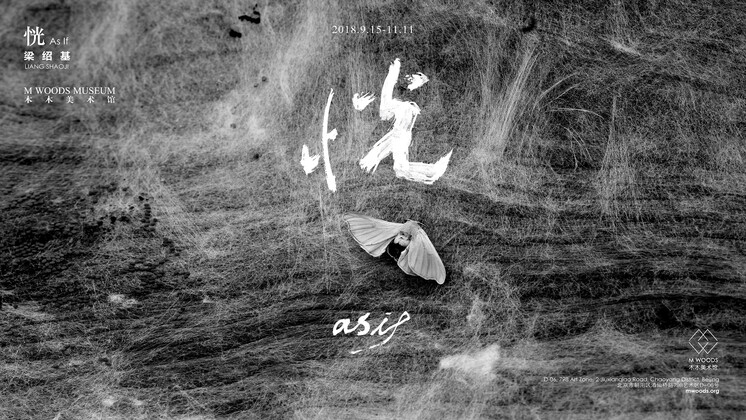 M WOODS is pleased to present Liang Shaoji: As If, a survey of works from the 1990s to the present and his first solo exhibition in Beijing in nearly a decade. Featuring six new pieces, the show spans the entirety of the museum and comprises sculpture, installation,video work, and photography. Renowned for his adaptation of silkworms within the creative process, Liang skillfully manipulates light, sound, texture and smell, crafting environments monumental and diminutive over which they spin their thread. Living in the remote mountainous city of Tiantai (four hours from Shanghai), Liang bridges disciplines of science, spirituality and metaphysics, probing our origins in nature, and eventual return to it in death, through the symbolically potent vehicle of silk.

As in many of Liang's previous exhibitions and artworks, the concept of the show is embodied by a singular character. Here, "恍" (huang), alternately translated as "indistinct," "dim," "all of a sudden," "seemingly" and "as if," refers to the pivotal moment that inspired the artist to use live silkworms in his practice. In 1988 while working on Yi (Change), Liang observed the light of dawn breaking across dried silkworm cocoons, which appeared reanimated. While watching the play of light and shadow, he recalled a passage from the Tao Te Ching: "As if invisible while visible; as if formless while given form." This exhibition represents the culmination of 30 years of deep meditation on this character. Comprised of the constituent parts "心" [heart] and "光" [light], Liang reads "恍" as a message of self-atonement, a means for transformation and rebirth through art.

The first floor introduces a suite of new works based around the pyramidal form. Occupying the central hall, The Temple (2013-2018) is Liang's most ambitious installation to date and tropes the layout of a cathedral nave. This architectural quotation is further elaborated in the "Dialogue" series (2009-2012) of black and white photographs in which he juxtaposes iconic structures from around the world, including the Temple of Heaven in Beijing, the Sagrada Familia in Barcelona, and IM Pei's glass pyramid entry to the Louvre, with his own silk pyramids. Of equal interest is a pyramidal installation produced with bioengineered silkworms that spin bioluminescent silk, accomplished with the aid of a genetics researcher.

Contrasting with the grandeur and weight of sculptural works on the first floor, the second accentuates the lightness of silk and its potential for metaphorical association. Liang imagines the space as encompassing all the elements typical to shan shui painting and reflect his concept of yi jian yi yuzhou ("The world in a cocoon.") Indeed, the works incorporate a variety of materials both natural and manmade—stone, wood, copper, mulberry leaves—from which Liang attempts to find a balance. Four Tang Dynasty wood pieces are disguised behind a layer of soft silk in Heavy Clouds (2014-2018). Silk Glaze (2017-2018), a never before seen series of plates resembling porcelain, Planar Tunnel (2011-2012), a group of hanging works resembling bi disks, and Whirl (2011-2012), a set of stones also covered in natural silk, carry the viewer through visually rhyming forms.

Elsewhere are several iterations of Liang's "Nature" series, one of his longest running works and of which he states, "When I made the leap from the decorative textile arts, refuting the enticing superficial variety of its surfaces, and returned to the very origins of the [silk] fabric, I discovered the cross sections embodied therein, of science and art, biology and bio-sociology, of weaving and sculpture and installation and performance."

Alongside these works, M WOODS provides audiences with an unprecedented opportunity for further study of Liang's practice and process. The artist's personal writings (poetry and diary entries) as well as preparatory drawings and unfinished works are kept on the third floor. Microscopes are also provided for audiences to observe the silkworms and their silk up close.
---
More Pictures:
Related Texts:
Related PDF:
Works Exhibited :
Related Publications:
---
上海香格纳文化艺术品有限公司
办公地址:上海市徐汇区西岸龙腾大道2555号10号楼
© Copyright
ShanghART Gallery
1996-2019

沪公网安备 31010402001234号