Ensemble
Project One Way Art, Beijing
Date: 07.08, 2018 - 08.31, 2018
Artists:
LU Lei 陆垒
|
SHI Qing 石青
|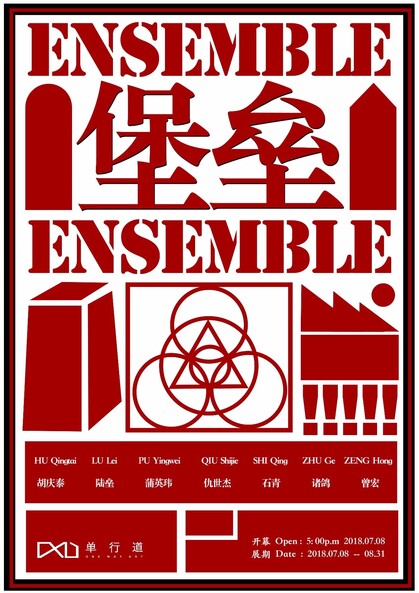 Artist: Hu Qingtai, Lu Lei, Pu Yingwei, Qiu Shijie, Shi Qing Zhu Ge, Zeng Hong
Opening: 17:00 2018.07.08
Duration: 2018.07.08 – 2018.08.31
"Ensemble" is a collective project initiated and participated by a group of artists. By appropriating the mode of organization and production of working collectively, this exhibition responds to the historical remnants that have became disposable in today's era of industrial production for the arts. In the context of preserving individual artist's working logic, the participating artists will produce text, images, artworks and live performance collaboratively. By eliminating the "surplus self" and one's projection, the role of the artist will recede to exhibition space; at the same time, the building of the "Ensemble" will be gradually shaped in the process of collaborative consciousness. This mode of production attempts to consider the art exhibition as an opportunity, a scenario, or the reality at hand, in building an alternative commonality. As the exhibition elucidates, the interactiv,steady yet loose relationships among the artists will become apparent; and in its process, even or arbitrary tension will be created. Furthermore, the artists will confront the remnant subjectivity from history (whether politically, economically or ethically), by which to contemplate placing one's own position. This exhibition will be the site to present all of the innocence and unknown.
---
---
上海香格纳文化艺术品有限公司
办公地址:上海市徐汇区西岸龙腾大道2555号10号楼
© Copyright
ShanghART Gallery
1996-2019

沪公网安备 31010402001234号