Action of Consciousness - Space 2 , MadeIn Company 2011 New Works Exhibition
Solo Exhibition
ShanghART H-Space, Shanghai
Date: 11.12, 2011 - 12.12, 2011
Artists:
XU ZHEN® 徐震®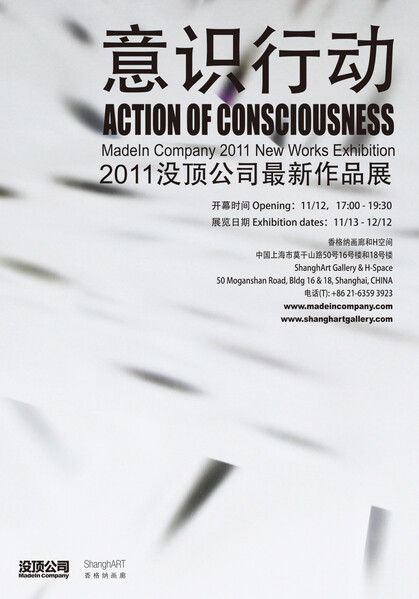 Opening Nov 12, 5pm
"Action of Consciousness" - MadeIn Company 2011 New Works Exhibition
November.12- December 12, 2011
Time: Main Space-10AM to 6PM; H-Space-1PM to 6PM
ShanghART Gallery Main Space & H-Space, 50 Moganshan Rd., Bldg 16&18, Shanghai
Art Team: MadeIn Company
On November 12, 2011, MadeIn Company will hold a solo exhibition in ShanghART Gallery, titled "Action of Consciousness".
MadeIn Company was created in 2009 by Chinese artist Xu Zhen, it is a contemporary art creation company, focused on the production of creativity, and devoted to the research of contemporary culture's infinite possibilities.

In this exhibition, the company's artworks will be developed around the concept of "action". MadeIn Company always emphasizes on "action" as a method. MadeIn Company innovated a new way of admiring artworks, extending the existence possibility of the "object", and redefining the rights of observing. Simultaneously, "Action of Consciousness" can be understood as the "ideology in action". MadeIn Company pointed out that in contemporary art "no matter how much is done it is never enough". In the continuous process of completing, transforming and redefining art, the "object" as an artwork and the "action" as consciousness become a new viewing content and challenge reality.
---
More Pictures:
Selected Press:
LEAP, February 2012 - MadeIn Company - Action of Consciousness
艺术当代2012年1月 - 关于行动的意识, 没顶公司《意识行动》个展语言策略

Related Texts:
Related PDF:
Works Exhibited :
Related Exhibitions:
Action of Consciousness - Space 1 -MadeIn Company 2011 New Works Exhibition
11.12, 2011 -12.12, 2011

---
上海香格纳文化艺术品有限公司
办公地址:上海市徐汇区西岸龙腾大道2555号10号楼
© Copyright
ShanghART Gallery
1996-2019

沪公网安备 31010402001234号