Turbulent , by MadeIn Company
Solo Exhibition MadeIn Company Exhibition Space, Shanghai
Date: 04.26, 2012 - 05.26, 2012
Artists:
XU ZHEN® 徐震®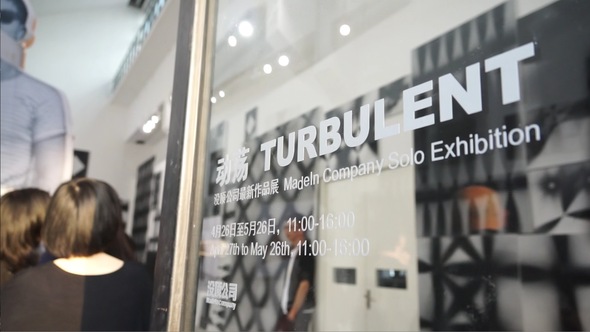 End of last year, MadeIn Company presented in its solo exhibition "Action of Consciousness" a series of oil paintings using classic techniques. This work re-created an aesthetic experience of local realism, using performing methods. "A new age creation of local realism". Now, a few months later, this action has been turned into "Turbulent".

"Turbulent" mainly consists in black, abstract, cage-like patterns painting of various sizes and shapes, all created with black spray paint, from a set point towards the borders of the canvas. Nozzles have been left on the work indicating its creation process. This simple action and combination, provides a new way of appreciating abstract painting.

Compared to the complex action in the previous work, the painting technique here appears as much easier and simple. Both works are initiated by an 'action' and result in a certain form of painting, with purposes based on painting experiences. To a certain level, the act of exhibiting itself is more important than the paintings. The action process and the language of spray painting 'legitimate' each single work, however the exhibition doesn't emphasize on this aspect, on the contrary it purposely reduces it; paintings resemble wallpapers, as an exhibition installation.

In a same way, the other series of works belong to this reflection. Two photographs are presented together with the black spray works, as an extension of the "True Image" series. Contrasting with the black "cages", these white background images remind of "windows", extending the room and providing a breathing space.

At the center of the space stand two large photographs installations, also issued from the "True Image" series. Unlike previous works from this series where installations, sculptures were presented as photographs and destroyed, the two plywood structures turn the photographs into installations again.

The passage through a lens (and a certain angle) transforms materials' textures and sizes. Installations go through a circular process and are shown under a new format. Just as painting become wallpaper, the existing "legitimacy" of the installations is questioned. These dubious thoughts on existing experience, lead to a new experience that hasn't happened yet. Perhaps this is the purpose of "Turbulent".

Under the strong structure of MadeIn Company, these single exhibitions appear as products launch, with a set routine. The meaning of the exhibition is weakened by the model of the company, and presented as a fact, not to say the individual artworks. Perhaps, within such a corporation system, anything produced is considered as necessary, and acceptable. As a response, audience doesn't dig into the meaning of the products. This is a mutual barrier between the Company and the viewers. This time's "Turbulent" is another position that MadeIn Company aspires to.
---
More Pictures:
Installation View ©MadeIn Company
Related Exhibitions:
Turbulent -Bund18 Temporary Art Space Special Series of Project
05.11, 2013 -07.31, 2013
Links:
---
上海香格纳文化艺术品有限公司
办公地址:上海市徐汇区西岸龙腾大道2555号10号楼
© Copyright
ShanghART Gallery
1996-2019

沪公网安备 31010402001234号