Turbulent , Bund18 Temporary Art Space Special Series of Project
Project Bund18, Shanghai
Date: 05.11, 2013 - 07.31, 2013
Artists:
XU ZHEN® 徐震®
|
"Turbulent" consists in black, abstract, cage-like patterns paintings of various sizes and shapes, all created with black spray paint, from a set point towards the borders of the canvas. Nozzles remain on the work indicating its creation process. This simple action and combination, provides a new way of appreciating abstract painting.

This apparently easy and simple practice, initiated by an 'action', results in a certain form of painting, based on pictorial experiences. To a certain level, the act of exhibiting itself is more important than the paintings. The action process and the language of spray painting 'legitimate' each single work, however the exhibition doesn't emphasize on this aspect, on the contrary it purposely reduces it; paintings resemble wallpapers, or a multi-faceted installation that interacts within, the viewer might form more or less an understanding towards the time in action painting.

"Daily Theater"–the premier of Bund18 Temporary Art Space special series of project, featuring the artwork "Turbulent" by Xu Zhen. We(Xu Zhen, Vanna Teng, Li Zhenhua) cordially invite you to witness a great transformation / fusion of art and public space.
---
More Pictures:
Related Exhibitions:
Turbulent -by MadeIn Company
04.26, 2012 -05.26, 2012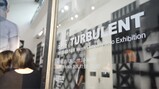 Links:
---
上海香格纳文化艺术品有限公司
办公地址:上海市徐汇区西岸龙腾大道2555号10号楼
© Copyright
ShanghART Gallery
1996-2019

沪公网安备 31010402001234号