Yang Fudong: Filmscapes , China Close up
Solo Exhibition Australian Centre for the Moving Image, Melbourne, Australia
Date: 12.04, 2014 - 03.15, 2015
Artists:
YANG Fudong 杨福东
Chinese artist Yang Fudong has firmly established himself as one of the world's most extraordinary moving image artists. His work's lyrical and dreamlike qualities, long and suspended sequences, spiralling narratives and multiple perspectives reflect the psychology of a new generation as it struggles to find its place in present-day China.

Stylistically rooted in Chinese painting, Yang Fudong's multi-channel film installations also reflect a fascination with international cinema, and in particular, film noir.

ACMI will also present a one-off screening of Yang's epic Seven Intellectuals in a Bamboo Forest (2003-2007), which is the first time that all five parts of this landmark film have been presented end-to-end in a cinema.

Yang Fudong is represented by ShanghART Gallery, Shanghai, and Marian Goodman Gallery, New York.

Yang Fudong: Filmscapes is presented as part of ACMI's special summer season China Up Close.
---
More Pictures:
The Coloured Sky, New Women II-Yang Fudong
Yejiang-Yang Fudong
The Fifth Night-Yang Fudong
East of Que Village-Yang Fudong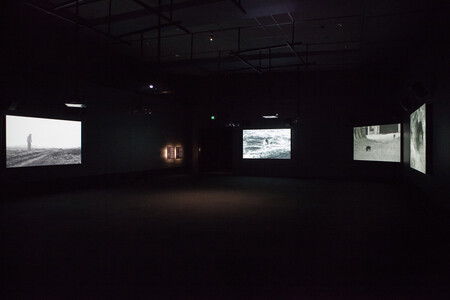 2007
Video|Multi-channel video|
2007
Video|Multi-channel video|
Melbourne Airport CUC Yang Fudong screens
Press Clipping
Works Exhibited :
Related Exhibitions:
Yang Fudong: Filmscapes
09.25, 2015 -01.25, 2016

Links:
---
上海香格纳文化艺术品有限公司
办公地址:上海市徐汇区西岸龙腾大道2555号10号楼
© Copyright
ShanghART Gallery
1996-2019

沪公网安备 31010402001234号