QFWFQ LIN YUQI, Art Asia Pacific, 2017/07/16
2022-05-04 22:00
Installation View at ShanghART M50
Editor: Andrew Stooke

Before entering Lin Yuqi's "Qfwfq" at Shanghai's ShanghArt M50 location, visitors heard the screech of a voice accentuated by sonic distortion. It expressed an unbridled moment of emotional expression, but on loop and repeated with gasping intensity. The source of this sound could only be accessed by ascending a short flight of concrete steps—the gallery is on a mezzanine level—and then entering a large, dark space to find that you are not alone. A tall figure sat with his back to visitors, whose entry commanded no acknowledgment; he seemed lost in self-reflection, inattentive to the films that played on several screens around them.

The largest projection, which was the only video in color, emitted the exclamation that primed the show. The Rules of Charge, the Site (2016) shows a woman swimming underwater, striving to reach the end of a pool, but she is continuously dragged back—a consequence of the video sequence's very short loop. Try as she may, the swimmer cannot break out of this limbo, and she is confined to this repeating moment, endlessly exerting effort, with no chance to rise above the water surface for a breath of air.

Together, these videos, showing disparate scenarios, inflict disorientation in the viewer. The effect is compounded in three more videos that depict a dance-like ritual; a woman buried in sand; and a woman in a shapeless sack-like costume that covers her head and body loitering on a street at night, entitled I Am Always the Weak in Front of You (2015). There is continuity in mood, as if they are chapters of a larger story, but much has been redacted, obfuscating any connection between the episodes. Similarly, the exhibition's title "Qfwfq" is a word with vowels removed, leaving behind a cipher. In fact, this title is the name of the shape-shifting first-person narrator who appears in many of the tales in Italo Calvino's short story collection Cosmicomics (1965), whose entries are mainly based on premises derived from quantum physics and evolutionary biology, taking place at velocities and in time scales beyond human experience. One tells of a man wanting to speak with a woman as both fall through infinite space; without gravitational influence, they are doomed to fall endlessly, maintaining the same parallel trajectories—never converging.

The scenarios in Lin's exhibition cannot be resolved. Lin invokes the German philosopher Georg Hegel (1770-1831), who proposed that although charge—as in responsibility—appears to happen according to the rule of moral law in real life, it is actually determined not by morality but by passion. People act according to their desires, provoking unexpected results.

To investigate this idea, Lin's strategy is to focus on intervening scenes. In The Rules of Charge, the Noble Temperament, for example, figures are trapped in their cross-dressed state, destined never to become male or female. Numerous clocks, some clogged with paint, some with hands hopelessly contorted, feature in I Am Always the Weak in Front of You. Their condition suggests that time cannot move forward; the clocks' inertia condemns the video's human character, swathed in formless material, marked with rudimentary drawn features, to live in unending twilight. Lin's audience drifted freely, lost in speculation. We may try to make connections, but are in a closed circuit, sharing the same fate as the characters in the artist's videos. We cannot impose any rational order on Lin's mysterious stories, and attempts to make sense of what is happening are futile.
-----
Related Works: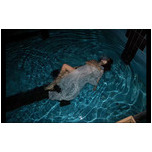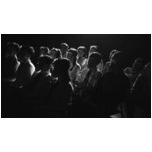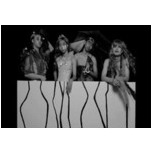 Related Artists:
LIN YUQI 林钰玘
Related Exhibitions:
上海香格纳文化艺术品有限公司
办公地址:上海市徐汇区西岸龙腾大道2555号10号楼
© Copyright
ShanghART Gallery
1996-2022

沪公网安备 31010402001234号