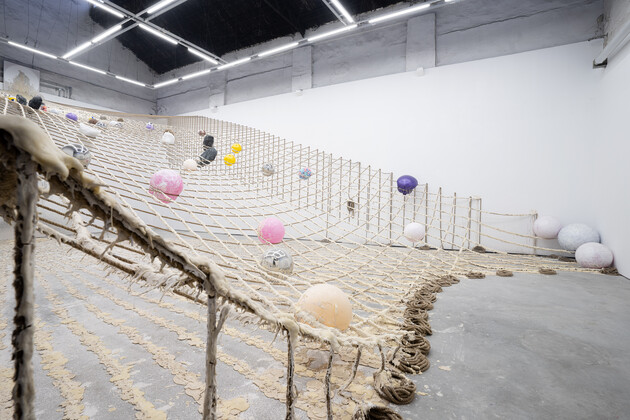 Open Studio
, Artists' studios, Shanghai,
06.08, 2023 - 07.10, 2023
Introduction
Liu Yue (b. 1981) was born and currently resides in Shanghai. Liu Yue's works often take objective things as the starting point, through the extreme intervention of cognitive experience, making the process of in-depth research have a strong sense of agnosticism and the unknown. In this kind of clue which is always parasitized by the cognitive limitation, the objective subject of cognition will also form a strong anti-materiality with a paradoxical logic. It makes people curious to observe the connection between the whole context and the concrete things in the cognitive process with the potential of falsification. Under those limiting extrapolations, the cognition creates "cracks" in itself. This process of extracting and purifying "impurities" from the essence of things is exactly what Liu Yue is extremely obsessed with.
Liu Yue was nominated for the Art Sanya Huayu Youth Award in 2017, and nominated for the Jimei Arles Discovery Award in 2021.
Recent exhibitions include: Liu Yue: Origin, ShanghART M50, Shanghai (2022); Liu Yue: Incarnation, CLC Gallery Venture, Beijing (2019); Liu Yue: Volume, ShanghART M50, Shanghai (2019); The Exhibition of Annual of Contemporary Art of China, Beijing Minsheng Art Museum, Beijing (2019); Liu Yue: OWL, C-Space+Local, Beijing (2018); LIU Yue: Maxim, ShanghART Beijing, Beijing (2016); Mass – Liu Yue Solo Project, Local Space, Beijing (2016); The Gentle Slope – Liu Yue Solo Project, AM Art Space, Shanghai (2015); Nonfigurative, Shanghai Twenty-First Century Minsheng Art Museum, Shanghai (2015), Anthem – Xiao Ming & Xiao Hong, AM Art Space, Shanghai (2012); Alexandria Biennale (2011); Photoquai Photo Biennale(2011).
上海香格纳文化艺术品有限公司
办公地址:上海市徐汇区西岸龙腾大道2555号10号楼
© Copyright
ShanghART Gallery
1996-2022

沪公网安备 31010402001234号