Zhang Ding: High-Speed Froms
Solo Exhibition OCAT Shanghai, Shanghai
Date: 10.19, 2019 - 03.08, 2020
Artists:
ZHANG Ding 张鼎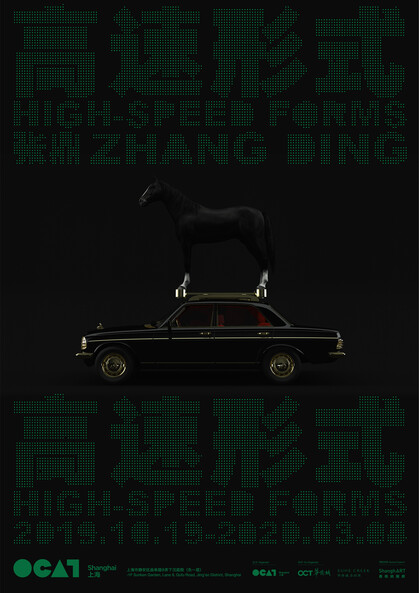 Zhang Ding: High-Speed Forms
Duration:October 19th, 2019 to March 8th, 2020
Venue:-1F Sunken Garden, Lane9, Qufu Road, Jing'an District, Shanghai

OCAT Shanghai will move to the new location. At the meantime, OCAT Shanghai is honored to present its inaugural exhibition, Zhang Ding: High-Speed Forms. The exhibition at the OCAT Shanghai re-evaluates the Modernist legacy of linearity, revisits a number of important subjects and motifs in the artist's 15 years of practise, and further develops the core elements of movements, motions, and emotional or atmospheric sculptures. Presented in the exhibition is a highway-speedy spectacle in various playful forms, made available in everyday context as one drives: a complete race track occupies the whole of the museum space; hovering, racing, speeding, is a number of modified electronic wheelchairs. Movement of walking is here replaced by that of riding or driving that operates in a prosthetic fashion; the sped relationship between the viewer and the spatial distances therefore largely blurs the act of seeing. Clear-headed, critical scrutinisation is here replaced with a hurried, careless glance. On the other hand, somewhat paradoxically, substituting substantially technological and speedy race cars with slow wheelchairs that are remotely controlled, the exhibition addresses the torn bodily-spiritual-mechanical experience brought by a chaos of different speeds in the contemporary society.

Driving is one of the most common experiences today. In either an optimistic, accelerationist reality of large-scale infrastructural constructions and superstructural developments, or a pessimistic version of the doomed future of the Anthropocene, where the conquering global Petro-Capitalism constantly threatens the public to defend themselves with archaic, alternative means and mentalities, the act of driving and speeding in various forms plays a central role of import. Pertinent is the recent development of the archaeology of modern technologies, and its study of the history of vehicles from cars to spacecrafts; also urgent and relevant, is the re-emergence of non-human intelligence and emotions - from cars to horses and rhinoceros alike. By focusing on and dealing with the reality of motions and speeds, High-Speed Forms transforms driving experiences into dark races, blinding large billboards, road sign skeletons, and proposes a reality of alternative speeds.
---
More Pictures:
Selected Press:
Zhang Ding's High-Speed Forms at OCAT Shanghai
在张鼎的"高速形式"中,是否看到了5秒前的自己?| ARTSHARD
高速形式 | Modern Weekly

Works Exhibited :
Links:
---
上海香格纳文化艺术品有限公司
办公地址:上海市徐汇区西岸龙腾大道2555号10号楼
© Copyright
ShanghART Gallery
1996-2019

沪公网安备 31010402001234号