Yu Youhan Retrospective , PSA China Contemporary Art Collection Series
Solo Exhibition Power Station of Art, Shanghai, No. 10 Exhibition Room, 7th Floor
Date: 12.24, 2016 - 03.26, 2017
Artists:
YU Youhan 余友涵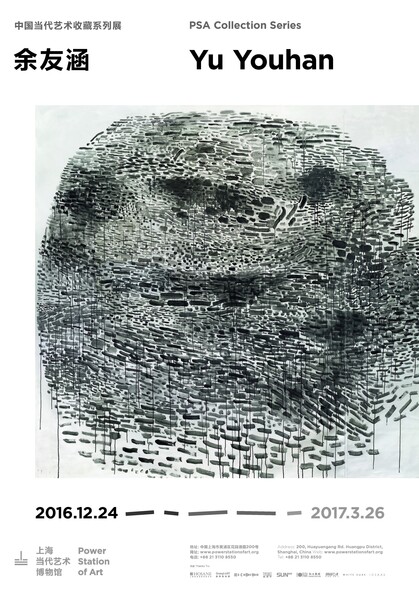 官方展览海报
Opening Dec 23, 3pm (by invitation only)
"Yu Youhan Retrospective" is the most comprehensive retrospective of this influential artist so far and includes towards two hundred works and documents from Yu Youhans 50 years of practice.


Born in 1943, Yu Youhan is one of the most representative artists in the 1990s avant-garde political pop art movement. His creations adopt both Chinese visual symbols and the western expression methods. His works made an impact on Chinese culture circumstance and wielded a powerful influence on a generation of contemporary Chinese artists such as Ding Yi and Qing Yifeng etc. More than 20 years ago, Yu Youhan already achieved a reputation in overseas art circles. He did not only participate in the 'China's New Art Post-1989' held in 1993, was also one of the first group of Chinese artists participated the Venice Biennale in the same year.
---
More Pictures:
Works Exhibited :
Links:
---
上海香格纳文化艺术品有限公司
办公地址:上海市徐汇区西岸龙腾大道2555号10号楼
© Copyright
ShanghART Gallery
1996-2019

沪公网安备 31010402001234号