Reading Li Shan
Solo Exhibition Museum of Contemporary Art, Taipei, Taiwan, 39 ChangAn West Road, Taipei 103, Taiwan ROC
Date: 11.24, 2012 - 01.20, 2013
Artists:
LI Shan 李山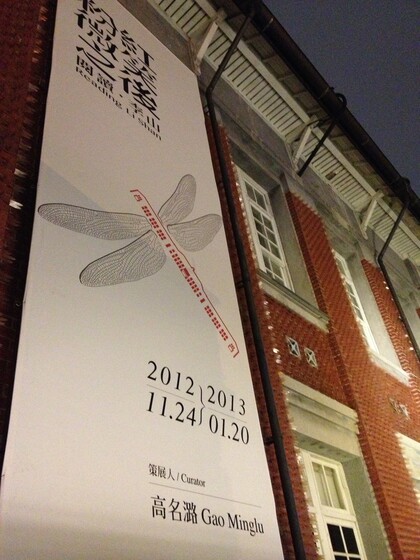 Reading Li Shan
Duration: 2012/11/24-2013/01/20
Venue: MOCA Taipei
Exhibition Introduction
Li Shan is one of the most important artists in the history of Chinese contemporary art. In his four-decade long artistic career, Li Shan has always insisted on constantly contemplating, exploring and reflecting on life and human nature through artistic creation. In the early eighties, Li Shan participated in the promotion of avant-garde art movement and became a representative painter of "rational painting", Chinese abstract art, in the mid-eighties. At the end of the eighties, Li Shan created Yan Zhi (rouge) series, which led him not only be regarded as the representative of the "political pop" art, his series of work with "pink" symbols was also well known. Since the mid-nineties, Li Shan has begun creation of his bio-art—the Reading series. This exhibition is to present Li Shan's thinking, ideas, and experiments regarding bio-art over the past 17 years by presenting a part of his works.

Bio-art is undoubtedly a state-of-the-art cultural discipline of the 21st century. Li Shan presented the test results of biological genetic recombination to the public through visual means. For the exhibition Reading Li Shan organized by the Museum of Contemporary Art, Taipei exhibited Li Shan's thinking and creation focused on bio-art since the nineties. Exhibited items included his reading journals on bio-art in 1995, a bio-art proposal created in New York in 1998, a fused image of an insect and an artist produced digitally, and a transgenic frog (including concept, pictures, and video records, etc.); the hundreds of images of transgenic creatures created by combining scientific knowledge and artistic imagination are truly the 21st century version of the monster extravaganza of the Shan Hai Jing, an ancient Chinese volume of whimsical stories! At the exhibition, viewers can simultaneously appreciate the two methods Li Shan used to minimalize, conceptualize, and maximize bio-art. For example, he condensed the theories of genetically modified organisms into a new Bible. Along with this, he covered the outside walls of the museum with wings of 200 thousand dragonflies, creating a spectacular view.

Li Shan's works of bio-art came in several stages: 1. Biotic + Abiotic, i.e., wrapping inorganic objects such as cars and planes in animal hides. 2. Insects + Mammals, i.e., fusing the genomes of animals of two different classes. 3. Human or himself + Insects or other small organisms, i.e., fusing human and other living things. 4. Produce new biological species through biogenetic engineering, or the Pumpkin project. Li Shan's bio-art combines imagination, empiricism, metaphysics, and science. It is a declaration of critique of anthropocentrism and attempts at pointing out that, to date, humans have adopted humanistic morals as norms and through which have created an unfair world and also interfered with the natural order.
---
More Pictures:
Related Texts:
Works Exhibited :
Related Publications:
Links:
---
上海香格纳文化艺术品有限公司
办公地址:上海市徐汇区西岸龙腾大道2555号10号楼
© Copyright
ShanghART Gallery
1996-2019

沪公网安备 31010402001234号